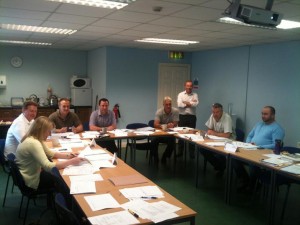 CMSE Training held the very first IOSH accredited Explosion Safety Management training course last week, at their Fire Training facility in Ringaskiddy, Co. Cork.
Attendees on the course came from various backgrounds including the fire services, manufacturing industry, engineering industry and more.
Gary Horgan, Senior EHS Consultant with CMSE Training, conducted the course, discussing a range of topics, including:
ATEX Legal Overview
Why Manage Explosion Risks?
Gas & Vapour Explosion Characteristics
Dust Explosion Characteristics
Hazardous Area Classification
Ignition Sources
Equipment Selection in Explosive Atmospheres
Explosive Atmospheres Risk Assessments
Explosion Prevention, Mitigation and Control
Equipment Inspection and Maintenance Standards
Explosion Protection Document
The aim of the course was to give participants a good understanding of the principles of the prediction, prevention. mitigation of gas, vapour and dust explosions hazards in the workplace.
The Explosion Safety Management course is the first of its kind, having being developed by the team at CMSE and accredited by leading body IOSH.
CMSE Training will be running this course in Cork in September, Dublin in October, and London later this year. You can check out the full details of the course by clicking here, or by contacting the team at CMSE Training on 1850 315 415 or email [email protected]