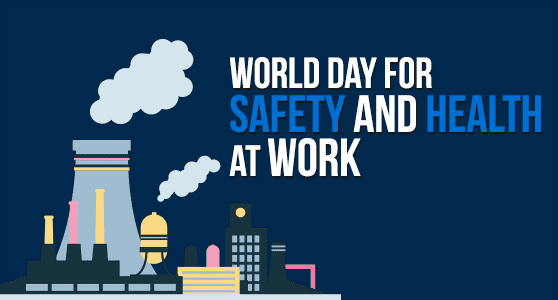 April 28th is World Day for Safety and Health at Work. Held annually since 2003, World Day for Safety and Health at Work day is an international campaign observed by the International Labour Organization (ILO) to promote safe, healthy and decent work.
Every day 6300 people die in work related accidents and and of occupational diseases. More than 317 million acidents occur annually and as we know, there are many more unreported.
World day for safety and health at work is on the 28th april. The focus for 2021 is the importance of improving capacity to gather information on occupational accidents and disease. Only with good data can targetted and sustainable improvement objectives be set and measured.
My tip for organisations going forward is to ensure you are gathering accurate data on accident incidents, near misses and particularly ill health in your workforce. Using the valuable information gathered you can target resources to drive improvement where it is most needed and where is can most benefit the whole organisation. This will help build resiliance with which to  face future challenges.
---
Chris Mee Group is a leading provider of Health and Safety  Training, Recruitment, Consultancy and Software Services to clients in Pharma, Construction, Manufacturing, Insurance, Life Science, Finance, Public Sector, Government, Food & Drink, Utilities, Transport, Oil & Gas and more.
Have a question? Chat to us instantly by clicking the chat box in the bottom right-hand corner of your screen. Alternatively, you can click here to email [email protected]
You may also be interested in:
Behavioural Based Safety Services Read Here
Risk Assessments Read Here
Display screen equipment (DSE) and Video Display Units (VDU) Assessments Read Here
Manual Handling Training Courses Read Here
Occupational First Aid Training Courses Read Here