According to the Health and Safety Authority (HSA) Fatal Workplace Injuries figures 38 people have died due to work-related accidents in 2021. This 30% year on year reduction in fatalities brings the number to the lowest figure since the establishment of the Health and Safety Authority.
Two children, both aged 16, were tragically killed in work-related incidents. The remaining fatalities were in the following age ranges:

Though there was over a 50% year on year decline, Farming remains one of the most dangerous sectors in which to work with 9 fatalities recorded in 2021.
The Construction sector records a 38% decline, with 10 fatalities in 2021 compared to 16 in 2020.
A breakdown of 2021 work-related fatalities is outlined below.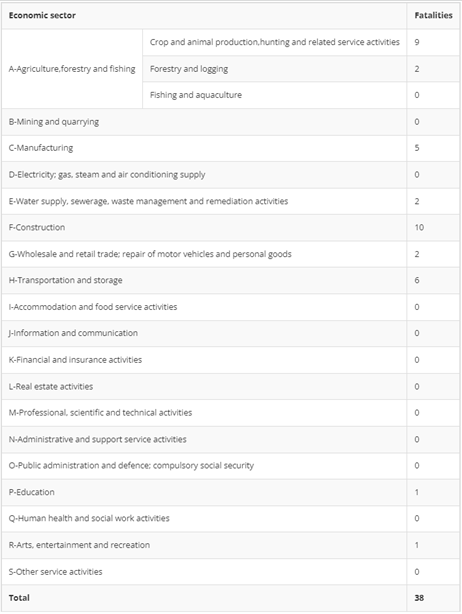 The Breakdown by Hazard/Trigger report shows that 12 of the fatalities were caused by loss of control by means of transport or handling equipment. 10 additional fatalities can be attributed to falls from height. These were the leading causes of work-related fatalities in 2021. The remaining fatalities were attributed to the following Hazards/Triggers:
Cork, Dublin and Wexford recorded the highest level of fatalities with 5 in each county. Kilkenny, Leitrim, Longford, Louth, Monaghan, Roscommon, Waterford and Westmeath each recorded 0 2021 fatalities.
---
For the latest information on workplace fatality and injury statistics please visit: https://www.hsa.ie/eng/news_events_media/news/press_releases_2021/health_and_safety_authority_welcomes_lowest_level_of_work-related_fatalities_since_records_began.html
---
Chris Mee Group are industry leaders in the areas of Behaviour Based Safety (BBS) and Observational Based Safety programmes. Find out more about how CMSE Consultancy BBS systems can help you to reduce accidents in 2022!