According to the Health and Safety Authority (HSA) Fatal Workplace Injuries figures, 26 people lost their lives in work-related accidents in 2022. These figures follow on from 2021 when the Health and Safety Authority announced the lowest level of work-related fatalities since the establishment of records, with 38 fatalities.
This welcome decline of 30% comes against a 3.4% increase in employment figures (Q3 2022 versus Q3 2021).
While the confirmed number of work-related fatalities this year is the lowest recorded, it is noted that ongoing investigations may see the reported/recorded number of fatalities increase over time.
A breakdown of 2022 work-related fatalities is outlined below;
The leading causes of work-related fatalities in 2022 were Falling from height (9 fatalities) and loss of control of a vehicle or its attachments (7 fatalities).
With three fatalities in each, Dublin, Galway and Wexford were the counties worst affected. No fatalities were recorded in 2022 in counties Carlow, Clare, Kerry, Kildare, Kilkenny, Leitrim, Louth, Mayo, Meath, Sligo and Wicklow.
Farming remains the sector with the highest number of fatalities. The sector saw 12 fatalities recorded in 2022, an increase from 10 in 2021.
25 of the 26 fatalities were male
One victim was aged in their teens, and 18 of the victims were aged over 55
Commenting on the HSA's provisional data on fatalities in Irish workplaces, Mark Cullen, Interim Chief Executive at the Health and Safety Authority said;
"Our view is that every work-related death is preventable and vigilance around health and safety in Irish workplaces is still imperative. Christmas this year for the families and friends of all those killed in workplace incidents will have been a difficult one and our thoughts are with them"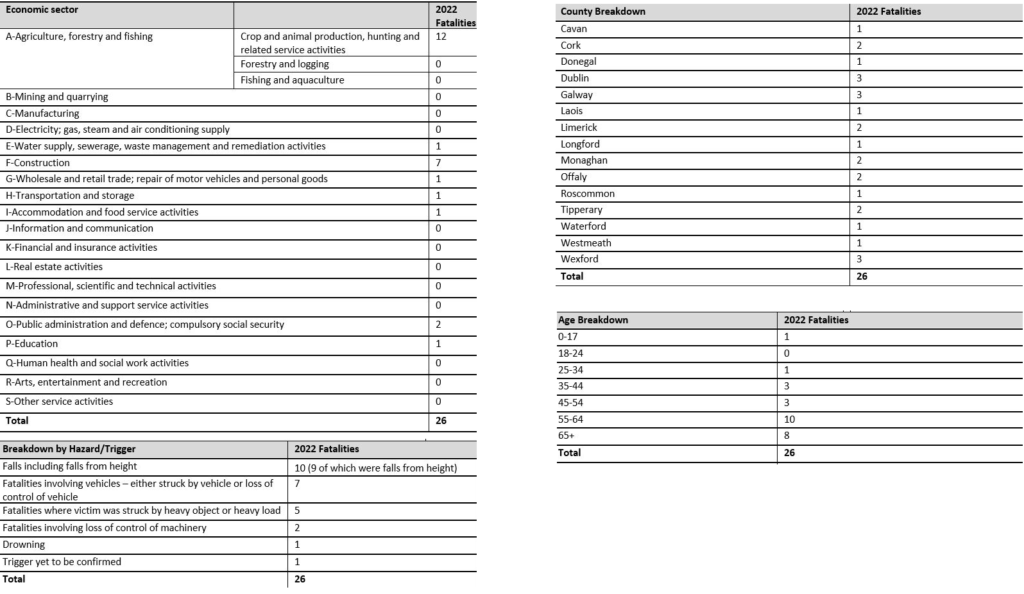 For the latest information on workplace fatality and injury statistics please visit: https://www.hsa.ie/eng/news_events_media/news/press_releases_2022/hsa_confirms_26_work-related_fatalities_in_2022.html ,contact the HSA Press Office on 086 8036141 or email [email protected]
---
Chris Mee Group are industry leaders in the areas of Behaviour Based Safety (BBS) and Observational Based Safety programmes. Find out more about how CMSE Consultancy BBS systems can help you to reduce accidents in 2023!