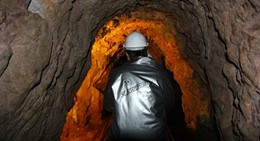 When it comes to working in confined, or enclosed, spaces it is essential that employers consider the associated dangers with confined space working and the requirement for preparedness. Confined space working is regarded as one of the most high risk jobs for any industry. The dangers to workers include injury or death due to falls from height, asphyxiation from gases and physical entrapment.
The associated hazards include:
Toxic Atmosphere. Can arise due to the presence of a hazardous substance
Oxygen deprivation. Can be caused by the displacement of air by another gas or the absorption of air onto steel surfaces.
Oxygen Enrichment. An excess of oxygen, in the presence of combustible materials, can result in an increased risk of fire and explosion.
Flammable or Explosive Atmospheres. The presence of flammable liquids within a confined space can present a risk of fire or explosion.
Flowing Liquid or Free Flowing Solids. This can be caused by liquids or solids flowing into the confined space causing drowning, suffocation, burns and other injuries.
Excessive Heat. If conditions are excessively hot this may increase the risk of heat stroke or collapse from heat stress within the enclosed space.
The unfortunate incidence of workplace fatalities involving enclosed or confined spaces remains prevalent across many industry sectors. Fatalities and serious incidents have occurred in the utilities, agricultural and maritime sector.
Two unrelated but similar events in recent times bring this to light.
In 2018, a fatality occurred on board a Scottish fishing vessel while it was in Fraserborough harbour. A second engineer working on board the trawler, was found collapsed inside a refrigerated salt water tank; although rescued from the tank, he could not be resuscitated. Evidence strongly indicated he entered the tank, an enclosed space, to brush away residual water after a cleaning operation.
When he was found unconscious, three of his crewmates went into the tank to help him; they all suffered breathing difficulties and one also collapsed. Two other crew members then donned breathing apparatus and rescued their struggling crewmates; the second engineer could unfortunately not be resuscitated. This incident could have so easily resulted in additional fatalities.
Although the engineer was undertaking a routine operation, the oxygen necessary to sustain life within the enclosed tank was displaced due to a leak of Freon gas used in the vessels refrigeration system.
The Marine Accident Investigation Branch report noted that the Freon gas leak was less foreseeable than other potential hazards in refrigerated saltwater tanks, however this accident highlights the critical importance of safety precautions and procedures in relation to entering any enclosed space.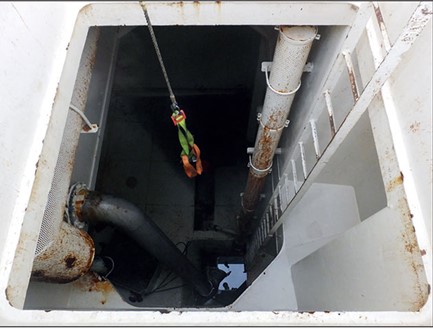 In 2015, a similar incident occurred on an Irish registered trawler while it was located in Killybegs. Two crew members  tragically died after they inhaled two toxic gases in one of the vessel's refrigerated sea water tanks while preparing and flushing the refrigerated sea water system for fishing operations. One of the casualties on this occasion was a would-be rescuer who had tried to assist his colleague who was overcome by the toxic gases in the tank.
The report notes the gases inhaled by the casualties were Ammonia and hydrogen sulphide, likely released from the water which had been stagnant in the dormant refrigerated sea water system for a period of months and released into the tank in the flushing operation.
While there were other contributary factors to both incidents the common feature was the enclosed spaces and the introduction of agents that made the atmosphere toxic and unable to sustain life. The appropriate safety measures such as atmosphere monitoring and awareness on the hazards associated with enclosed spaces were not fully assessed or well understood.
Confined space entry work should not be taken lightly as the consequences of the activity going wrong can be tragic indeed. So, what can employers do ensure preparedness of confined space working?
According to Regulation 5 of The Safety, Health and Welfare at Work (Confined Spaces) Regulations 2001, it states the following measures should be considered by the employer prior to confined space entry:
A person shall not carry out work in Confined Spaces if it is reasonably practical that it could be avoided.
If the work must be carried out Hazard Identification and Risk Assessment must be carried out prior to the work commencing.
A person shall not enter a confined space unless there is a system of work in place that has been planned, organised, performed and maintained so as to render that work safe and without risk to health.
Anyone entering a confined space must be provided with appropriate information, training and instruction appropriate to the particular characteristics of the proposed work activities.
To ensure emergency preparedness in confined space working, Regulation 6 of the Confined Spaces Regulation states a person shall not enter a confined space unless there is a suitable emergency arrangements have been made which are appropriate to the confined space in question. Therefore, the employer should carry out the following emergency arrangements:
Provision of suitable means of raising the alarm in event of emergency.
Have the necessary rescue equipment and should be in good condition.
Provision of information, training and instruction for all workers involved in rescue procedure.
Provision of training and equipment for resuscitation procedures in the foreseeable event.
The most important thing an employer can do when carrying out confined space working is to be prepared. This can be achieved through risk assessments, safe to work permits, planning and implementation of procedures for entry and rescue, and ensuring their workers are well informed and appropriately trained. It is the employers responsibility to take the proper precautions to safeguard the health of their workforce.
---
CMSE Consultancy specialists provide practical solutions and advice to all our clients in all areas of Confined Space.
Chat to us instantly by clicking the chat box in the bottom right-hand corner of your screen. Alternatively, you can click here to email [email protected]
Similar Topics