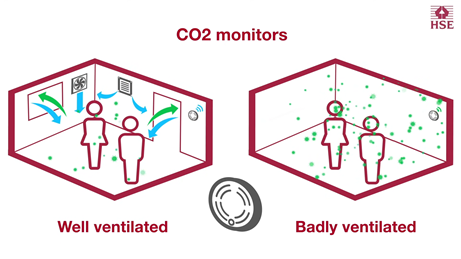 The Chris Mee Group is continuing to monitor public health advice and technical guidance on COVID-19 safety measures from around the world.
In this post, one of our safety consultants, Jake Bumpus, highlights some useful advice on ventilation and air conditioning during COVID-19 pandemic from the UK's Health and Safety Executive (HSE), which is available online here.
At this stage of the pandemic, it is well understood that maintaining adequate ventilation is a key COVID-19 infection prevention and control measure to keep workers safe and healthy whilst at the workplace. However, companies can often find it difficult to find practical advice in relation to how to achieve this.
The UK HSE advice on ventilation in relation to COVID-19 is broken down into the following topics:
Identifying poorly ventilated areas and using CO2 monitors
Assessment of fresh air (ventilation)
Improving natural ventilation
How to improve mechanical ventilation
Balancing ventilation with keeping workplace temperatures comfortable
Air cleaning and filtration units
Ventilation in vehicles
The use of carbon dioxide (CO2) monitors as an indication of adequate or poor ventilation is gaining increased prevalence here in Ireland. The UK HSE guidance includes useful tips on where CO2 monitors should be placed, which type of areas may or may not be suitable for CO2 monitoring, and what actions the results of CO2 monitoring should prompt.
The HSE advice on ventilation is summarised in the following short video;
---
The Chris Mee Group offers a number of COVID-19 related services, including the preparation of bespoke COVID-19 Response Plans, gap analyses of current COVID-19 arrangement and procedures, and COVID-19 induction and Lead Worker Representative training.
---
Similar Topics: