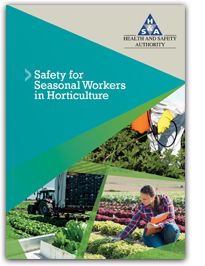 The guidance is aimed to be a useful resource for everyone in the industry, whether self-employed, an employer or an employee.
Most workplace injuries and ill health are foreseeable and preventable. These guidelines will help identify hazards in horticultural workplaces and how to reduce the associated risks.
A recent CSO labour force survey found that, in Ireland three quarters of those working in horticulture were non-Irish nationals. With this in mind, this guide has been provided in over 10 languages. Downloads available here.
---
You may also be interested in:
CMSE Safety Management & Gap Analysis Consultancy Read More
Latest Workplace Fatalities in 2020 Read More
The growing recognition prolonged postures as a Musculoskeletal hazard. Read More
Chris Mee Group are industry leaders in the areas of Behaviour Based Safety (BBS) and Observational Based Safety programmes. Find out more about how BBS systems can help you to reduce accidents.
Have a question? Chat to us instantly by clicking the chat box in the bottom right-hand corner of your screen. Alternatively, you can click here to email [email protected]