Since March/April 2020, and the onset of the COVID-19 pandemic, CMSE Consultancy have assessed many home workstations on our virtual platform.  With 1000s of assessments, there was a broad spectrum of home working set-ups viewed to say the least with the good, bad and the completely unworkable.  Understandably during for the first few months many took the ad-hoc 'I can manage with this set-up for now' approach, not of course anticipating a much longer timeframe that evolved.
Over time however this interim approach became problematic, as not only can a poor ergonomic workspace create musculoskeletal discomfort issues, but this is also often exacerbated by the psychosocial aspects of normal stresses and strains of a busy workload, domestic responsibilities, i.e., children off school and the general anxiety of the unknown with a global pandemic.
The proposed changes in the law emerging to allow employees the legal right to request to remote work, will place an emphasis on employers to review their longer-term workplace strategies.
While not guaranteeing the right to work remotely, the proposed changes will require consultation and the giving due consideration to requests to work from home. Justification will need to be given where such a request is denied, and employers need to consider that many employees will have become adjusted to working from home and the benefits it may bring to their work-life balance. Companies will need clear policies in place to identify where a flexible hybrid model of working can be accommodated and where in certain cases working remotely cannot. In a tight labour market with skill shortages across many sectors employers may need to show flexibility to retain talent.
Now during the 'phased return to work' triggered by the recent removal of many restrictions, it may be a good time for employers to reflect on what worked well during the remote working phase of the last two years and what areas were problematic. This can assist in setting a road map for their future of work that can incorporate a more accommodating and mutually beneficial model for employer and employee alike.
Anyone that has worked remotely will likely by know have a good idea of what can work well for them and what did not suit them. With the likes of the Jan 2022 survey by the CSO reporting that 90% of 35–44-year olds favour a hybrid model of working from home and office, can companies afford to return to old habits and kick the remote working can down the road?
It would be interesting to hear people's experiences of what surprised them (positive/negative) during their stint of remote working and what roadblocks they foresee to the 'request to work' law proposed for the future.
---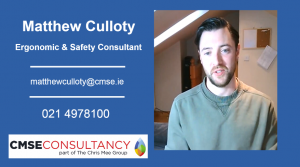 Matthew Culloty, Ergonomist, CMSE Consultancy 
Future Work-life Boundary Challenges with Homeworking by Matthew Culloty, Ergonomic & Safety Consultant at Chris Mee Group During the initial COVID-19 restrictions that were set out in late March 2020, many in working from home  scenarios …Read more
5 Tips for working from home, directly from Chris Mee Group Ergonomist and Safety Consultant Matthew Culloty Home working is something we've all heard of in recent years; while the number of companies that provide this as an …Read more
Winter Driving Preparedness. Winter Driving Preparedness was compiled by Matthew Culloty, Ergonomic & Safety Consultant at CMSE Consultancy, …Read more
Psychosocial Factors – a Hidden Risk Written by Ergonomic & Safety Consultant Matthew Culloty Very often the ergonomic risk assessment identifies …Read more
---
If you require further information or assistance please contact us via email at [email protected], by phone at 021 497 8100 or start an instant chat with us via the chat box in the bottom right-hand corner of your screen.