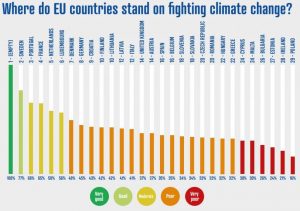 Ireland is faced with paying hundreds of millions of euro in EU imposed fines or purchasing carbon credits as the country is likely to fail in its 2020 EU carbon emission reduction targets to reduce emissions by 20%.
Speaking at the Dáil, Taoiseach Leo Varadkar declares that the real reduction will be nearer to 1% in 2020 but he hopes that 2030 targets will be met. Going on to say "I am determined that we should do so for renewable energy and CO2 emissions."
Levies of €20 per tonne are applicable to petrol, diesel, coal and more and though the Government have thus far held off on increases in the budget it is likely that future budgets will see rises.
A recent Off Target report Published by Climate Action Network (CAN) Europe noted that though Sweden is on right track no EU country is performing adequately in terms of ambition and advancement in reducing carbon emissions.
Image Source: https://www.downtoearth.org.in/news/climate-change/most-eu-countries-set-to-miss-2020-carbon-emission-reduction-targets-report-60882
Carbon Action – Part of Chris Mee Group are a leading provider of environmental related Carbon Training & Climate Change Consultancy services in UK, Ireland & abroad. Our clients range from large multinationals to SMEs. If you have any questions regarding Climate Change please do not hesitate to contact one of our experienced Consultants by filling in the enquiry form on this page.
Sources:
https://www.irishexaminer.com/breakingnews/ireland/ireland-will-miss-eu-emission-targets-for-2020-admits-leo-886731.html
https://www.downtoearth.org.in/news/climate-change/most-eu-countries-set-to-miss-2020-carbon-emission-reduction-targets-report-60882