Hand sanitiser consumption and demand has increased since the outbreak of COVID-19 earlier this year. Schools throughout Ireland are installing sanitising means for school children and staff which is an incredibly positive step for hygiene and reducing the spread of the virus.
As schools introduce new requirements for the use of hand sanitisers there is a need to recognise the fire risk of storing large quantities of hand sanitisers. Antibacterial hand sanitisers are manufactured using alcohol. Pure alcohol has a flashpoint of 13 degrees C and sanitisers with concentrations of 78% alcohol have a flashpoint of 15 degrees Celsius which creates a serious fire hazard if storing the product in bulk within a school or premises.
The storage and use of hand sanitisers in schools must be controlled as with any flammable liquid. The Health & Safety Authority (HSA) recommends hand sanitizer containing ~70% Alcohol, would be classified as flammable so significant storage at a workplace would increase the fire risk and they should be stored in a cool place away from sources of ignition. Quantities above 10 litres should be stored in a fireproof cabinet, fire rated compartment or an area covered by an automatic sprinkler system.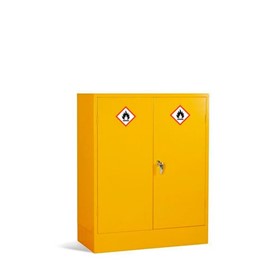 Hand sanitizers containers (used for refilling purposes at stations) should not left unattended in areas where students have access, in staff room or electrical switch-rooms.
Flammable substances materials must not be stored near access/ egress routes, fire exits, electrical equipment (appliances) or heating equipment (boilers, electrical heaters etc.). They should be stored in a well-ventilated storage area away from any potential sources of ignition.
It is also important to note that hand sanitizer should have an integrated drip tray or a tray underneath to catch spillages and they should never be installed above carpet or flammable surfaces.
Please check of this short video prepared by Dublin Fire Brigade showing the invisible nature of alcohol-based flames/burning.
It is also important that care is taken when filling hand sanitizer dispenser, avoid the use of mobile phones or smoking. Spillages should be cleaned up immediately. If your clothes get contaminated, remove them immediately and wash. Wash your hands with water after contamination when refilling hand sanitizers.  Do not smoke and keep clear of naked flames after using hand sanitizers. 
The importance now of holding regular fire drills cannot be over-stressed and having staff trained in the use of basic fire extinguishers. In the area where bulk volumes of alcohol based hand sanitizers are stored you must ensure the correct type of fire extinguisher is available (AFFF- Foam Based or Dry Powder type).
It is important that your school carries out a Risk Assessment into the safe use, handling and storage of hand sanitizers in the school, college or workplace. CMSE Consultancy provide a professional Health, Safety & Fire Service.
---
If you require further information or assistance please contact us via email at [email protected], by phone at 021 497 8100 or start an instant chat with us via the chat box in the bottom right-hand corner of your screen.
You may also be interested in:
Ethanol versus Methanol in Hand Sanitiser. Jake Bumpus and Aisling Hegarty, explore the recent surprise recall of a hand sanitiser based on its methanol content. Read More
Fire and Rescue Training Courses Read More
The Importance of Fire Doors Read More
Fire Safety Engineering Read More 
CMSE Consultancy PPE Services  Read More 
Face Masks vs Face Visors. Which is most effective? Read More