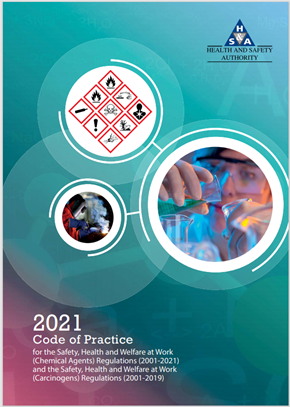 The Health and Safety Authority (HSA) has published the revised Chemical Agents and Carcinogens Code of Practice for 2021, which is available online here. The revised Code of Practice (CoP) introduces new Occupational Exposure Limit Values (OELVs) for ten substances, which are highlighted within Schedule 1 of the CoP. The ten substances with new OELVs are:
Aniline
n-Butyl acetate
Sec-Butyl acetate
Chloromethane
Isoamyl alcohol
Isobutyl acetate
Isopropyl bezene (Cumene)
Phosphoryl trichloride
p-Toluidine (4-aminotoluene)
Trimethlyamine
The HSA are now urging employers who use or produce hazardous substances to review their chemical risk assessments. Chemical risk assessments are essential for managing the hazards and risks associated with the use of hazardous chemicals and carcinogens. The Safety, Health and Welfare at Work (Chemical Agents) Regulations 2001 places specific duties on employers, employees and others in the workplace. The requirements for carrying out a chemical risk assessment are as follows:
Identify the substances and their hazardous properties
Assess the activities where there is potential exposure to workers
Identify the preventative measures to control the risks to workers
Implement control measures and provide individual protective measures
The assessment should be recorded and considered a 'living document'
Employers must ensure that employees are properly, informed, trained and supervised
---
CMSE Consultancy have extensive experience in the area of Chemical Safety with numerous Chemical Engineers and Safety professionals.  We carry out extensive consultancy and training in this area.
Chat to us instantly by clicking the chat box in the bottom right-hand corner of your screen. Alternatively, you can click here to email [email protected]
Similar Topics: