Prior to the first national lockdown, remote work was slow to establish, with some of the larger domestic and international companies offering this as maybe one day week/month, this was by no means a common feature of working life in Ireland, however the pandemic has influenced this enormously.
Transitioning suddenly to remote working resulted in many positives such as a reduction transport & childcare expenses and the elimination of commutes, but remote working is not without its challenges for both employers and employees.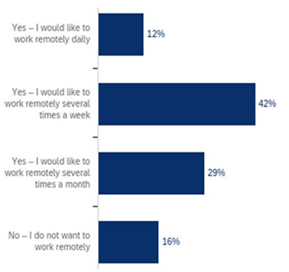 The Whitaker institute NUI Galway conducted a survey on remoting working during COVID-19, key findings of the 7,241 respondents found over half had never working remotely before and of these 78% would like to continue to work remotely after the crisis is over in some capacity. 
However, the top 3 challenges that respondents noted from working remotely were. 1) Not being able to switch off from work 2) Collaboration and communication with colleagues and co-workers is harder 3) Poor physical workspace, along with other key items of isolation/loneliness and online meetings too stressful.
This was consistent with an American study over a longer period of working from home by Gensler's 2020 U.S. Workplace Survey was conducted using data collected from over 2,300 U.S. workers who had spent minimum six months working from home.
When asked about their expectations and ideal future work locations, 52% chose a hybrid model of between 1 and 4 days at home and the remainder in their office. In general, workers choose to go back to the office to be productive; but they choose home for the convenience and safety.
Section 72 of the Safety, Health and Welfare at Work (General Application) Regulations 2007  rules that "An employer, when providing display screen equipment for use by an employee at a workstation, shall— (a) ensure that the general use of the equipment is not a source of risk for the employee, (b) perform an analysis of the workstation in order to evaluate the safety and health conditions to which it gives rise for the employees, particularly as regards possible risks to eyesight, physical problems and problems of mental stress, and, on the basis of that evaluation, take appropriate measures to remedy any risks found, taking account of— (i) the minimum requirements specified in Schedule 4, and (ii) any additional or combined effects of any such risks so found,…"
How Can CMSE Consultancy and Chris Mee Group Assist you?
We know that our clients want to both be compliant with DSE regulations and ensure their employees are healthy and safe when working. We understand that this can be extremely difficult when it is not possible to arrange face-to-face desk assessments.
CMSE Consultancy has been a leading provider of Ergonomic Services nationwide for many years. Using the outlined guidance from the HSA we will assist you in ensuring that responsibilities of both you as the employer as well as your employees are met when working from home. CMSE Consultancy provides the following services; virtual Display Screen Equipment (DSE) assessments, workstation reviews, task assessments, repetitive strain injuries assessments and more.
Our virtual assessment services ensure that you receive the same top-quality service without increasing the risks to your staff or an assessor.  The remote delivery of these services mean that they are available to everyone regardless of location allowing your team to be assessed and guided from home or in your office environment.
What is covered in a Remote DSE Assessment?
During the assessment your experienced Consultant/Assessor will address:
The CMSE consultant carries out the one-to-one DSE assessments and provides immediate advice and training to the user
The workstation ergonomics and the employee's routine, position and seating are all assessed.
An individual DSE assessment checklist record is completed, and a soft copy provided to the client
Please find attached a process flow chart for info.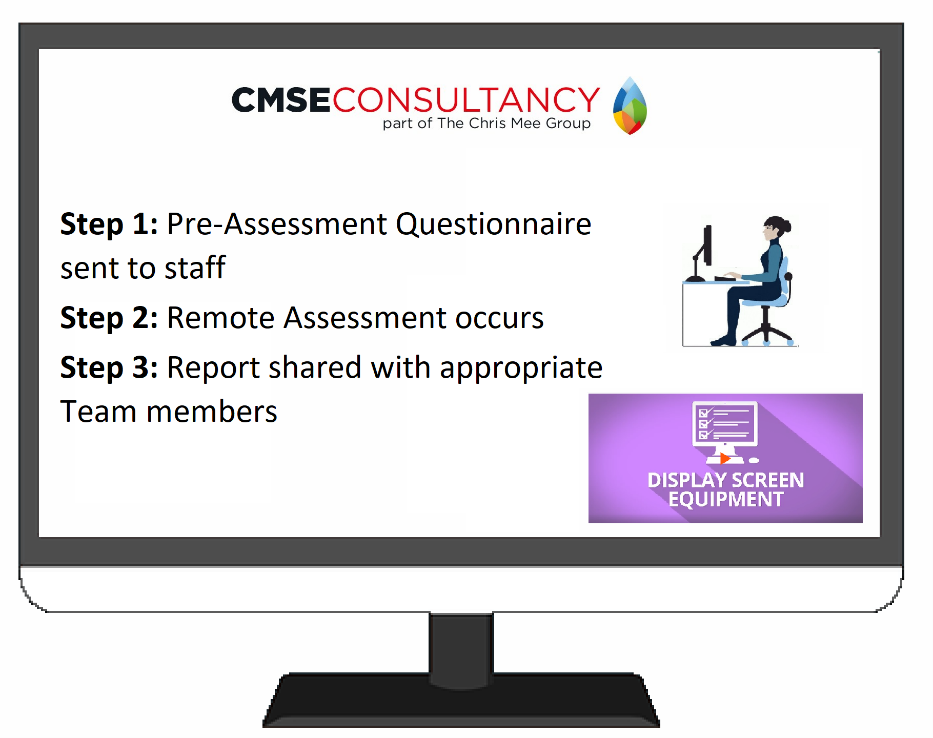 How does a Remote DSE Assessment work?
The user experience for a Remote DSE Assessment is very easy.
Step 1: You send the pre-assessment questionnaire code to staff
Step 2: Staff complete DSE Pre Questionnaire & choose from agreed times for DSE assessment.
Step 3: DSE assessment takes place via WhatsApp or Microsoft Teams
Step 4: Report shared with appropriate Team members
If you require further information or assistance please contact us via email at [email protected], by phone at 021 497 8100 or start an instant chat with us via the chat box in the bottom right-hand corner of your screen.
---
Sources:
US WORKPLACE SURVEY 2020. SUMMER/FALL. GENSLER RESEARCH INSTITUTE
Section 72 of the Safety, Health and Welfare at Work (General Application) Regulations 2007