We're almost two years into the pandemic and still, more and more employees are working from home. With this in mind, do you know your Legal requirement duty when it comes to providing Homeworking Assessments?
As well as general duties under the Safety, Health and Welfare at Work Act 2005, the Safety Health and Welfare at Work (General Application) Regulations, 2007 require that the employer take measures necessary for the safety & health of employees and these measures to account of the changing circumstances and General Principles of Prevention. Therefore an employer has a duty to complete a risk assessment of the homeworking activities of employees to check whether the proposed home workplace's ventilation, temperature, lighting, space, chair, desk and computer, or any other kind of work station, and floor are suitable for the tasks the homeworker will be asked to do.
---
CMSE Consultancy has been providing Ergonomic services to clients nationwide for many years. It's important to our clients not only to ensure that that they are compliant with the 2007 General Application Regulations but also to ensure that their employees are healthy and safe when working.
Logistically, it can be difficult when it is not possible to arrange face-to-face desk assessments. We have developed a number of different, interchangeable services that allow us to deliver cost-effective solutions to ensure that our clients receive the same top-quality service without increasing the risks to your staff or an assessor.
The remote delivery of these services mean that they are available to all personnel regardless of location, allowing your team to be assessed and guided from home or in your office environment.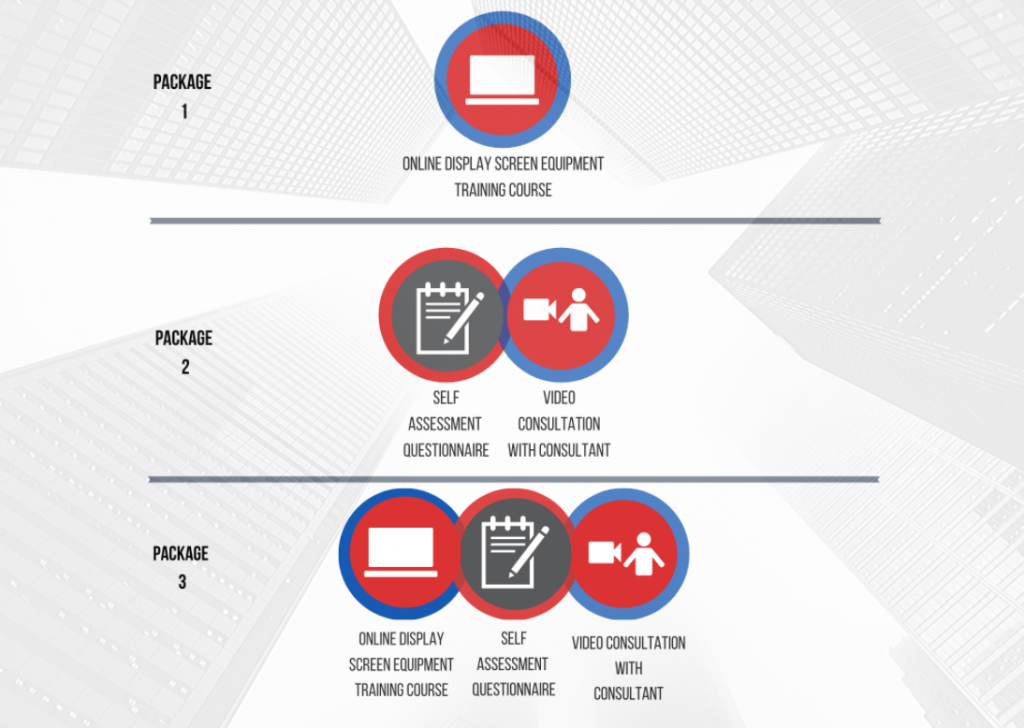 The CMSE Consultancy remote packages include
Video training. The Online CMSE Training. 50 minute, IIRSM approved Display Screen Equipment Course is aimed at users of DSE and those responsible for assessing display screen equipment.
This course fulfills companies statutory training obligations and covers the correct way to set up and use your display screen equipment safely, in turn reducing the risk of work-related conditions
2. Self–Assessment – Your designated CMSE Consultant will share a self-assessment document with your team members via email. This self-assessment will assist in identifying any homeworking ergonomic issues you may have. It includes a checklist that will help is complete a homeworking assessment of your home office setup.
3. Video Consultation – Your designated CMSE ergonomics Consultant will arrange for a video consultation. Through this consultation, your consultant will review your self-assessment and make appropriate changes to your workstation, immediate working environment and anything else deemed necessary in order to ensure that your home working ergonomics are correct. Throughout the assessment, screenshots will be taken in order to provide a 'before and after' view, so changes to the environment can be tracked.
Assessments center around practical advice, allowing personnel to work with what is easily available to avoid any strain or injury from incorrect positioning of equipment.
Upon completion Finally, your designated CMSE ergonomics Consultant will generate a report with all findings from the video consultation.
---
Our experienced health & safety consultants are on hand to continue to provide vital assessments for those who now find themselves working outside of their usual desk.
If you require further information or assistance please contact us via email at  [email protected], by phone at 021 497 8100 or start an instant chat with us via the chat box in the bottom right-hand corner of your screen.