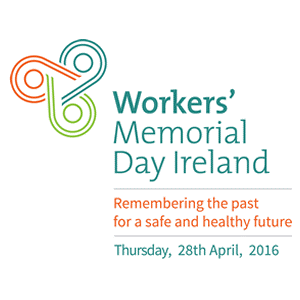 April 28th is an important date for anyone with an interest in the safety, health and welfare of people at work in Worldwide.
April 28th is the date every year when employer groups, individual organisations and trade unions take a moment to remember those who have been killed or injured in work-related accidents.
In the past 10 documented years (2006-2015) 525 people lost their lives in work-related accidents with thousands more badly injured. 55 of these deaths alone occurred in 2015.
On April 28th a national commemoration event will occur in Dublin. Attendees will include members of the Health & Safety Authority (HSA), Congress, Ibec, and Construction Industry Federation.
Please mark the date in your calendar and make the commitment to contribute to this most important challenge.
The HSA suggest your organisation should consider partaking in the following activities for Workers' Memorial Day:
Showing support for the national Workers' Memorial Day Ireland by including the logo on your website, email signatures, in offices displays and throughout workplaces.
Writing and sharing applicable content on your Website, E-newsletters and across Social Media.
Prepare a Guest speaker could give a topical presentation to your staff.
Release a press release to your local/national media marking your event / the day
CMSE Consultancy – Part of Chris Mee Group are a leading provider of Safety related consultancy services in Ireland & abroad. We have over 100 consultants in Dublin, Cork and London. Our clients range from large multinationals to SMEs.
For further information on Workers' Memorial Day contact Gavin Lonergan, Head of Communications at the HSA at [email protected] or (01) 799 7838.