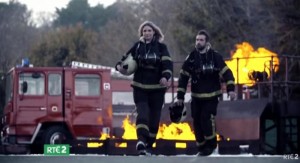 In the RTE Network 2 two part series "Tested on Humans", presenters radio host Keith Walsh and model/daredevil Claire Tracey were used as guinea pigs in a number of physically and emotionally challenging situations.  As one of their endurance tests Keith and Claire visited CMSE's state of the art Fire & Rescue Training Centre in Ringaskiddy.  The CMSE Fire Training Instructors compiled a thrilling "Heat Test Challenge" for the show. Keith and Claire were put through a series of fire scenarios including exposure to temperatures of over 1,000 degrees and had to save a victim from a smoke filled room.  To see the challenges and experience the heat yourself please  Click Here
The show gives the viewer an insider view of the CMSE Fire & Rescue Training Centre and its many training aids and simulators.  CMSE is a leading provider of industrial fire training and emergency response services throughout Ireland and abroad.   Our clients include pharmaceutical and petro-chemical plants, food industry, medical device and fire services.  Many industries by their very nature and by the activities that are carried out have the potential for fire and other emergency situations.  CMSE provide specific training solutions to prepare for such events.
The Centre is located near Cork International Airport for ease of access for all our national and international clients.  CMSE Fire Engineers use an "Aquarium" Unit to demo practical fire experiments including UEL/LEL, flammability, backdraught, inertion, gas freeing to further enhance the learning experience.
The center features include:
Helicopter Simulator
Clean Burn Technology
Flashover Units
Flange Fires
Claustrophobic Chambers
Confined Space Tanks
Chemical Spill
Height Rescue and much more
CMSE has many years experience in the delivery of hands-on, practical fire training and emergency response services.  For more information about our fire training services  Click Here