According to figures released by the Health and Safety Authority (HSA), 47 people lost their lives in work related accidents in Ireland in 2017.
For the 8th year running agriculture had the highest number of work related fatalities with 24. Of the 24 fatalities, 14 were men over 65 killed and one fatality was a child.
The transport sector had six fatalities.
Accidents involving vehicles accounted for 21 of all fatalities in 2017.
Falls from height accounted for 6 fatalities in 2017
With 6 fatalities each reported, Dublin, Mayo & Cork had the highest number of fatalities
28 of the fatalities in 2017 involved male's ages between 18 and 65
Of 47 fatalities reported, 18 were self-employed persons, 15 were employees, seven non-workers and seven family workers.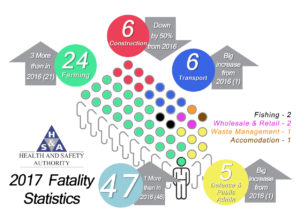 HSA Chief Executive, Martin O'Halloran, says that "Everyone involved in farming must aim to make whatever changes are necessary … safety must be paramount when carrying out any work, especially with tractors or farm machinery."
For a more detailed breakdown please visit hsa.ie: Elderly farmers most likely to be involved in fatal work-related accidents
Chris Mee Group is an industry leader in the areas of Behaviour Based Safety (BBS) and Observational Based Safety programmes.
Click through to our Behaviour Based Safety (BBS) information pages to find out more about how BBS systems can help you to reduce accidents.