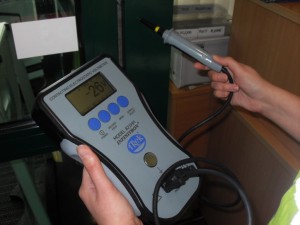 CMSE Consultancy, part of Chris Mee Group, are pleased to announce the following additional service now available to our Clients; Static Survey Assessments.
"Electrostatic discharges pose a significant ignition hazard when used with flammable substances (gas, vapour & dust) and can lead to fires and explosion. This ignition hazard associated with static discharges is widely understood in Process and Manufacturing Industries", said Gary Horgan, Senior EHS Consultant, CMSE Consultancy
Gary continued, "At CMSE one of our aims is to support Industry and our Clients to eliminate the ignition hazard posed by static discharges and therefore eliminate and mitigate the possible effects of the explosion and fire hazard in the workplace. "
Darren O Keeffe H&S Consultancy Director at CMSE said, "At CMSE our consultants  perform static survey assessments for defined areas and activities within the plant where static may pose an explosion, occupational personnel hazard, or lead to electronic component failure or manufacturing product problems. By carrying out an a thorough inspection of the plant and measuring electrostatic surface voltage our consultants identify sources of static generation as well as potential deficiencies or lack of controls that may lead to static generation".
After performing a site review and static survey CMSE Consultancy issue a comprehensive report giving detail of existing control measures and the properties of the processes which may generate static.  The report includes the  findings regarding the measurement of potential static generation voltages and calculation of hypothetical MIE's.  The report also provides any additional basis of safety to be implemented as well as recommendations and actions required to prevent static generation in the workplace.
CMSE Consultancy, part of Chris Mee Group, is a leading provider of Process Safety Engineering Services and provides a wide range of process safety consultancy and training services to the Pharmaceutical, Oil & Gas, Utilities, Manufacturing and Food sectors.  Our consultants are highly experienced and qualified in process/chemical and multi-disciplinary safety disciplines.  We specialise in identifying process hazards, assessing the risks within your process and specifing practical protective measures needed to reduce the risk/ hazard in accordance with the ALARP principles, regulatory requirements and industry standards.
For more information please Click Here
https://www.cmse.ie/consultancy/process-safety/process-consultancy/