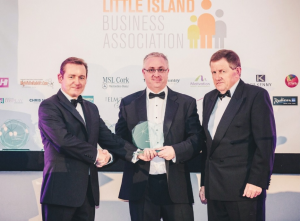 At the recent LIBA Business Awards dinner in the Radisson Blu Hotel in Little Island Cork on Nov 20th, Chris Mee Group received the Award for Training Company of the Year 2015.   This is a very prestigious award and the competition was very strong this year, as it has been in recent years.
In his announcement, Mr Michael Mulcahy, founder of LIBA stated, "….in acknowledgment of their exceptional growth LIBA are delighted to award Chris Mee Group, the LIBA Training Company of the Year Award for 2015". 
Mr William Cuddy, President of LIBA said, "Our awards tonight are made to organisations that demonstrate exceptional leadership and skill and we are delighted to recognise them."
Tarik El Amoud, International Business Development Manager with Chris Mee Group, accepted the award on behalf of the organisation.  He later said, "…..the Group has grown into a team of over 200 professionals spread across 4 office locations in Ireland and the UK.  Today we provide health and safety and environmental training, consulting and recruitment & placement services to clients nationally. We are also expanding internationally and are working with numerous clients outside of Ireland including companies in Libya, United Arab Emirates (UAE), Europe and USA".
Chris Mee, MD and CEO of Chris Mee Group, commenting on the award said, "Any award from LIBA with Michael Mulcahy and William Cuddy at the helm is indeed a great honour and high accolade for us.  The calibre of the other nominee organisations was very high this year and this gives us more satisfaction. "
Chris continued, "….I want to say a big thank you to the management and staff who worked so hard and with persistent dedication over many years to make this award possible……the team now delivers training to over 20,000 students annually….a huge achievement for a local indigenous company …. "
LIBA – More Information:
Little Island Business Association (LIBA) is a not for profit organisation formed in May 2012, to provide a platform for organisations in the area to network and further develop business.  According to Michael Mulcahy there are around 1,000 companies operating in the Little Island area at present providing thousands of jobs.  For more information please visit http://www.liba.ie/
CMSE Training – More Information:
CMSE Training, is part of Chris Mee Group, and is a leading provider of classroom/on-site & on-line training courses in Ireland and internationally.  CMSE Training is internationally accredited by QQI, NEBOSH, IOSH, SOLAS,  STCW,  SEAI, Canadian Standards Association (CSA), Road Safety Authority and more.  For more information please visit   https://www.cmse.ie/training/.
Chris Mee Group provides further professional services to local and international geographies, across a multitude of industry sectors, including Environmental Health & Safety Consultancy, Recruitment & Placement and Carbon Trading. For further details on the organisations market leading services, please visit https://www.cmse.ie