A new report published by Car Data Experts MotorCheck.ie found a 25.7% decrease in cars imported into Ireland from the UK in January 2020 in comparison to the same period in 2019.
6,769 cars were imported into Ireland from the UK in January 2020, 2,354 fewer than the 9,114 from the year before.
The main influencing factor thought to be causing the decrease is thought to be the introduction of the NOx Levy on January 1st, 2020.
When examined in more detail, the report shows that in January 2020 imports of Used Diesel vehicles actually dropped by 35%. Imports of Used Petrol vehicles rose by 4.2% and Imports of used commercial vehicles (which are not subject to the Nox levy) and HGV's actually increased by 13.5%.
What is the NOx Levy?
The Nitrogen Oxide (NOx) Emission Levy or "NOx Levy" is an additional levy which must be paid on top of the standard VRT for all category A vehicles (passenger and SUVs) on first registration.
The charge is based on a NOx (Nitrogen Oxide) sliding scale per-milligramme per-kilomtere.
Premium brands remain Irelands favourite used Car to imports with Audi, BMW and Mercedes-Benz all occupying positions of the Top 5 brands imported.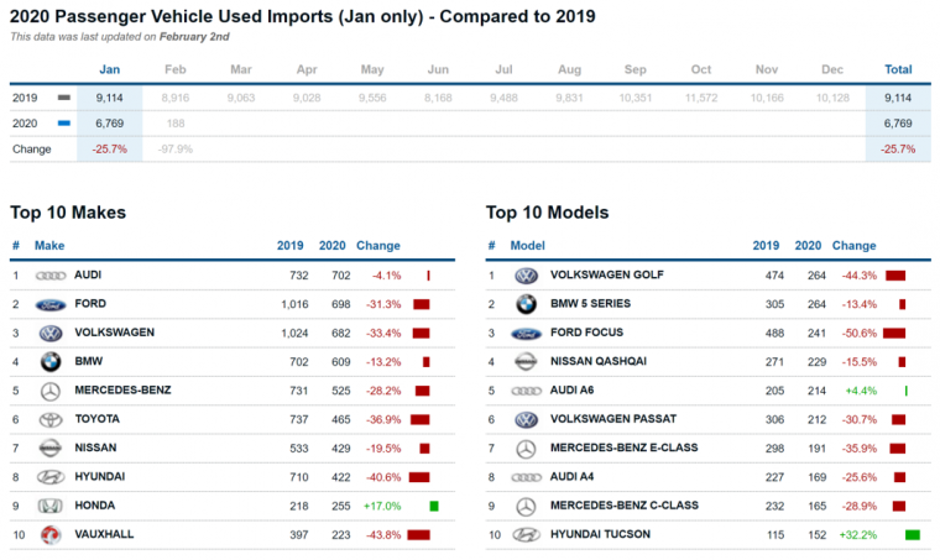 Similar Topics
What An Environmental Expert Has to Say About the Proposed Climate Action Amendment Bill Read More
Are Electric Vehicles Really a More Eco-friendly Option? Read More
Carbon Calculator – How Accurate Can They Be? Read More
Source: https://www.motorcheck.ie/blog/nox-levy-brexit-halt-the-growth-of-uk-car-imports/