Material Manual Handling (MMH) is present in just about every business sector, some industries are more intensive than others but eliminating all MMH activities is often not possible or practical. Chapter 4: Manual Handling of Loads of the Safety, Health and Welfare at Work (General Application Regulations) 2007 places a duty on employers to manage ergonomic risks in relation to work activities that involve manual handling.
Where manual handling cannot be avoided take appropriate organisational measures, or use the appropriate means, in particular mechanical equipment, to avoid the need for the manual handling of loads by the employer's employees. Manual handling risk assessments need to be specific to the tasks and should not follow a general 'catch all' risk assessment that is often too vague and can place too much reliance on the training of manual handling.
Fortunately, they are many mechanical aid solutions on the market today, the challenge can sometimes be which is the most appropriate. This is where a specific MMH assessments can inform practical and cost-effective options relevant to the risk level of such tasks. When considering the risk rating, frequency of use, improved efficiency and employee well-being, investment in such measures offer a reliable return in many aspects of the business.
While lifting/lower activities are often the main concern and create the higher risks for MMH. Push/Pull activities is still a manual handling activity as the worker is using their bodily force to complete the work and appropriate measures should be in place to mitigate the force and frequency where applicable.
Some items to consider for mechanical aids:
Is the mechanical aid capable of safely holding and moving the load and is it suitable for the intended work environment?
Do employees require any specialised training?
Does it reduce the horizontal reach distances and/or vertical lifting/lowering distances for the users?
Along with the ground surface the wheel size plays an important role for reducing the initial force on the user, stability moving across terrain or over surface lips on the floor and the control for the user.  This can prevent sudden halting or jerking on the user which can cause a muscular strain and injury.
Handle height and grip position does influence the level of force exerted on the lower back, this should accommodate the largest percentage of the working population where practical. Handle position between 100 – 144cm from the floor level on a trolley can allow better body posture for two handed pushing/pulling activities.  
Chapter 2 of Part 2: Use of Work Equipment outlines the requirements that employees received sufficient instruction and training on the safe use of all work equipment and such equipment is correctly maintained.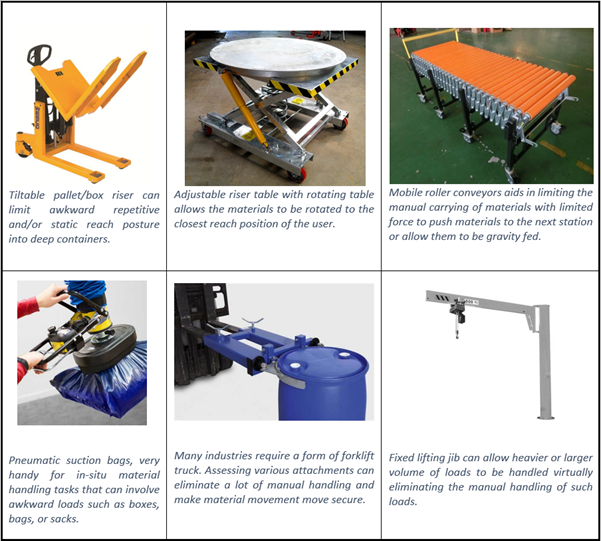 The HSE (UK) MAC (Manual Handling assessment chart) and RAPP tools (Risk Assessment for Pushing and Pulling tasks) can be a usefully tool to identify if certain activities fall into generally acceptable parameters for most of the working population and where potential areas need practising and could be a good place to start to screen various workplace activities. This can guide a more detailed assessment or ergonomic programme following best practice and standards.
---
For a detailed ergonomic workplace and organisation assessment including material manual handling activities don't hesitate to get in touch.
Other services that may be of interest to you:
DSE & Ergonomic Solutions for Working at Home
EMAIL OR CALL US NOW !
Dublin Office: +353 1 517 5270
Cork Office: +353 21 497 8100
---