Gary Horgan (CMSE Consultancy Manager at the Chris Mee Group) and his team are outlining the path for companies to ensure they are compliant with Part 8 "Explosive Atmospheres at Places of Work" of the Safety, Health & Welfare at Work (General Application) Regulations 2007 in a series of focused blogs.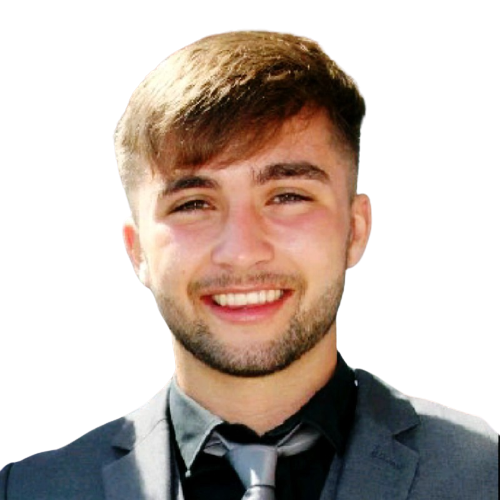 This is blog number 14 in the series, written by Danny McSweeney, which discusses the maintenance requirements for ATEX rated equipment.
Introduction
The importance of maintenance of ATEX rated equipment can not be over-stated. It is vital the equipment and installations are suitable maintained to ensure their integrity. Maintenance comprises repair, servicing and inspection, however, the management of the ATEX equipment includes having and maintaining technical documentation, maintenance planning, and having traceability of any interventions. When equipment is not maintained it may not provide the required level of protection in a hazardous zone. Figures 1, 2 & 3 below show typical examples of poorly maintained ATEX rated equipment.

Applicable Standards
The applicable standard to be used as a reference for the maintenance of ATEX equipment is:
BS EN 60079-17 Electrical apparatus for explosive gas atmospheres – Part 17: Inspection and maintenance of electrical installations in hazardous areas (other than mines)
Other relevant parts of the BS EN 60079 standard that may be required for maintenance of ATEX equipment include BS EN 60079-14 and BS EN 60079-19
Documentation Required
Prior to implementing verification, maintenance, inspection and testing procedures, the following information shall be available:
Hazardous Area Classification of potentially explosive atmospheres;
Equipment group, category, and temperature class;
Records sufficient to enable the explosion protected equipment to be maintained (list and location of equipment, spares, technical information, etc.);
Installation drawings as required by ET 101:2008 (National Rules for Electrical Installations);
Inventory of explosion – protected equipment;
Descriptive system document for intrinsically-safe circuits;
Any documentation required by statute;
Records from all previous tests;
History of inspection and maintenance activities.
Types of Inspection
Initial Inspection
Initial inspection takes place during the installation of apparatus. It is stated in BS EN 60079-17 that no equipment shall be put into service" until an initial inspection has been carried out and all significant points addressed. Adequate documentation should be provided to record said inspections. All electrical apparatus, systems, and installations undergo an initial inspection before they are brought into service. Initial inspections must also be carried out on any modifications of equipment.
Sample Inspection
Sample inspection refers to the inspection of a proportion of the electrical apparatus, systems, and installations of a piece of equipment.
Periodic Inspection
Periodic inspection refers to the routine inspection of all electrical apparatus, systems and installations carried out. Every time a periodic inspection occurs, inspectors must fill out a Periodic Inspection Report. The minimum information required in this report is:
Standards and regulations applied:
a) ET 101:2008
b) ET 105:2011
c) Relevant statutory instruments
Details of the installation:
a) Scope of the installation
b) Agreed limitations on the inspection and testing
a) state the purpose of the periodic inspection
b) Statutory requirements
c) Insurance inspection
d) Safety audit
Supply characteristics and main isolator/main switch details (type of live conductors, electrical parameters values, test results per circuit, observations, and actions to be taken, test instruments used, declaration statement).
Continuous Supervision
Continuous supervision refers to the frequent attendance, inspection, service, care and maintenance of the electrical installation by skilled personnel who have experience in the specific installation and its environment in order to maintain the explosion protection features of the installation in satisfactory condition.
Grades of Inspection
Visual Inspection
Visual inspection identifies, without the use of access equipment or tools, defects such as missing bolts, which will be apparent to the eye.
Close Inspection
Close inspection identifies aspects covered by a visual inspection and, in addition, identifies those defects, such as loose bolts, which will be apparent only by the use of access equipment.
Detailed Inspection
Detailed inspection identifies aspects covered by a visual inspection and, in addition, identifies those defects, such as loose terminations, which will only be apparent by opening the enclosure, and/or using, where necessary, tools and test equipment
Inspection Frequency
It is expected that all inspections are to be carried out by trained, competent personnel experienced in this work.
Specific plant environment and the expected deterioration/life expectancy of equipment must be considered before deciding on the frequency of inspection.
It is stated that there should be no greater than 3 years between inspections for any piece of ATEX equipment.
A minimum inspection frequency of 12 months is given for handheld or portable equipment.
Aspects Checked during Inspections
Apparatus is appropriate for area classification;
Apparatus gas group is correct;
Apparatus surface temperature is correct;
Apparatus circuit identification; clearly labelled;
Sealing of conduits, trunking, etc.;
Tightness of cable entry devices;
Cable type appropriate;
Earthing & bonding;
Fault loop impedance or earthing resistance test & condition;
Insulation resistance test >1Mohm;
Overload devices;
Special condition of use 'X' marked equipment;
Type of protection – Flameproof enclosures 'd' type joints;
Type of protection – Increased safety 'e' overloads.
Qualification of Personnel
It is expected that the personnel carrying out the inspections are experienced and trained personnel, with knowledge of types of protection, installation practices, and relevant rules and regulations. It is also expected that these personnel have evidence of relevant experience and training (CompEx trained or equivalent).
Maintenance Requirements
Remedial measures and alterations maintain the integrity of the type of protection provided for the apparatus; this may require consultation with the manufacturer.
Replacement parts shall be in accordance with the safety documentation.
Alterations to apparatus shall not be carried out without appropriate authorization where they adversely affect the safety of the apparatus as stated in the safety documentation.
Maintenance of Flexible Cables
Flexible cables, flexible conduits and their terminations are particularly prone to damage. Therefore, they must be inspected at regular intervals and shall be replaced if found to be damaged or defective.
Withdrawal of Apparatus from Service
If it is necessary, for maintenance purposes, to withdraw apparatus, etc. from service, the exposed conductors shall be;
correctly terminated in an appropriate enclosure, or
isolated from all sources of power supply and insulated, or
isolated from all sources of power supply and earthed.
If the apparatus is to be permanently withdrawn from service, the associated wiring, which shall be isolated from all sources of power supply, shall be removed, or, alternatively, correctly terminated in an appropriate enclosure.
Effects of Environmental Conditions
Electrical apparatus in a hazardous area can be adversely affected by the environmental conditions in which it is used. Some of the key elements to consider are corrosion, ambient, temperature, ultraviolet radiation, ingress of water, accumulation of dust or sand, mechanical effects, and chemical attack.
Maintenance Work
Any maintenance work should be restricted to:
Disconnection, removal or replacement of electrical equipment items and cabling;
Adjustment of any controls necessary for calibration of the electrical equipment;
Removal and replacement of any plug-in components or assemblies;
Use of any test instrument specified in relevant documentation;
Manufacturer's recommendations.
Failures
Failures should be categorised as either minor faults or major faults. Someone with the authority to stop the process / production should always be available where a major fault is discovered.
Re-Inspection
Re-inspection is required after any faults are identified and rectified. It is standard practice that the person that rectified the fault is not assigned to re-inspect said fault.
Safety Issues
Detailed inspection requires that risk assessments be carried out to ensure that inspectors are not exposed to hazards during the work. Hazards such as incorrect isolation, unexpected failure of equipment under test, pre-existing faults should be considered.
Inspection of ATEX Areas
Drawings should be available for the ATEX area showing plan and elevation views.
Equipment should be marked on the drawings or on a database that cross references the drawing.
Register or schedule of Ex equipment should be available.
The inspector should identify items that may not be on the inspection list and raise safety concerns.
Modifications
If, as a user, you modify a piece of equipment, the supplier declaration of conformity and ATEX certification is no longer valid (unless the supplier modifies the equipment at your request).
If you modify the equipment, you are required to certify the modified equipment yourself.
Inspection Maintenance Schedules
The following tables are included in Annex D of the BS EN 60079-17 standard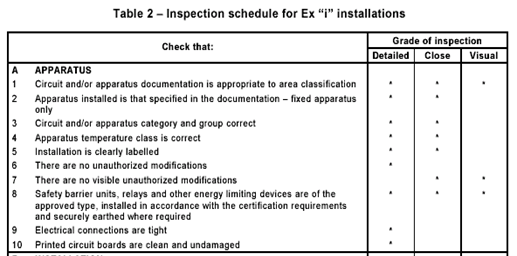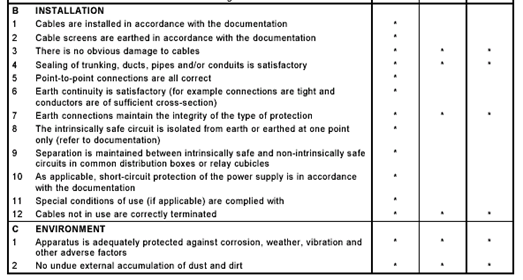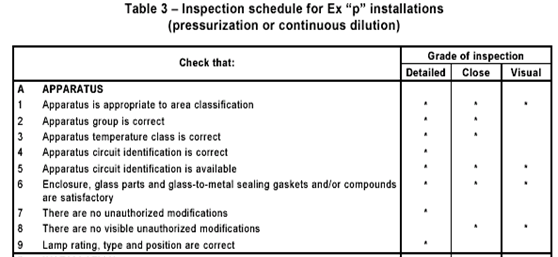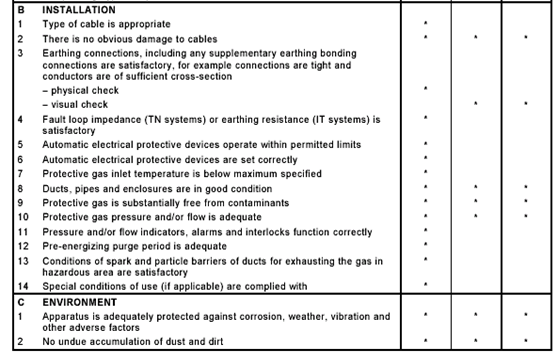 Management of Change (MOC)
Planning and Management of Change:
A. The employer should establish and implement written procedures to manage changes to process, chemicals, technology, equipment, procedures, and changes to facilities that affect a covered process.
B. The procedures should assure that the following considerations are addressed prior to any change:
the technical basis for the proposed change;
impact of change on health and safety;
modifications to operating procedures;
necessary time period for the change;
authorisation requirements for the proposed changed.
C. Employees involved in operating a process, maintenance and also contract employees whose job tasks will be affected by a change in the process shall be informed of, and trained in, the change prior to start-up of the process.
---
Sign up here to receive the next article in this series directly to your inbox before it goes live to the public 
CMSE Consultancy provide professional Occupational, Process, Explosion & Fire Safety Services.
If you require further information or assistance please contact us via email at [email protected], by phone at 021 497 8100 or start an instant chat with us via the chat box in the bottom right-hand corner of your screen.