Aisling Hegarty, Health & Safety Consultant with CMSE Consultancy discusses Machinery Safety.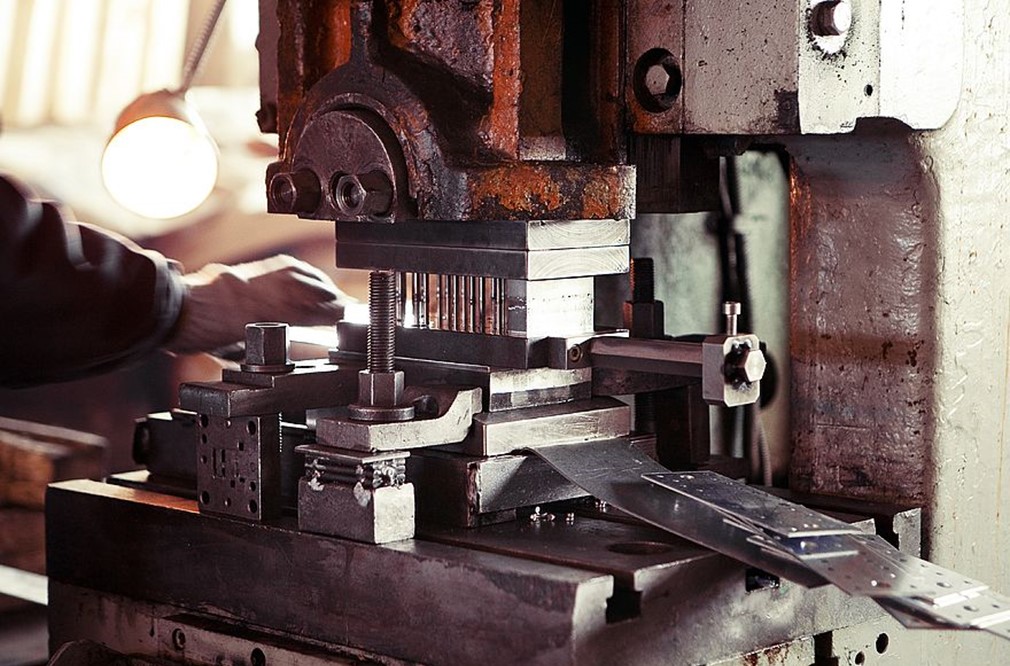 As with the rest of society, businesses in Ireland have experienced severe disruption during the COVID-19 pandemic. This was particularly true when the lockdown restrictions were initially implemented last March, which resulted in staff shortages and decreases in production. A likely result of the reduction in operations was that more machinery and equipment were left idle for prolonged periods of time. Now that businesses are trying to ramp up operations wherever possible, it remains vital for employers to ensure that all work equipment and machinery is safe to operate.
The risk of workplace injuries due to contact with moving machinery and equipment is higher in the manufacturing (including food, drinks & pharma) sectors. The injuries sustained by employees when operating, cleaning, or maintaining machinery can range from minor abrasions or cuts, to severe injuries such as fractures, lacerations, crushing, amputation, or death. Accidents in workplace can have far reaching ramifications for both employee and the employer. It can affect productivity, finances, employee morale and corporate reputation.
The primary causes of machinery accidents related to system failures can be seen in diagram below: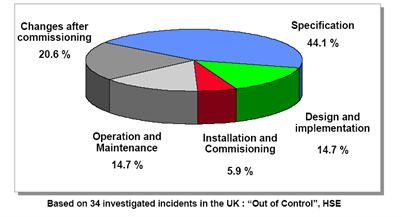 Source: "Out of Control " published by UK Health and Safety Executive
The best time to ensure machinery is safe is during the design and installation stage, however this duty continues to apply throughout the whole lifecycle of equipment. As stated under the Safety, Health and Welfare at Work (General Application) Regulations 2007 an employer is required to ensure "any work equipment provided for use by employees at a place of work complies, as appropriate, with the provisions of any relevant enactment implementing any relevant Directive of the European Communities relating to work equipment with respect to safety and health." Employers must ensure the equipment and machinery in operation remains compliant with relevant directives such as the Machinery Directive 2006/42/EC.
It is important also that employers do not just depend solely on the fact that the machine displays CE Marking and comes supplied with a EU Declaration of Conformity; while this demonstrates confidence that the designers have considered Essential Health and Safety Requirements (EHSRs), it is not an absolute guarantee of safety! It remains the employer's responsibility to carry out a suitable and sufficient machinery risk assessment.
In the UK, a recent workplace accident case was settled in court in which a manufacturer of blown fibre and ducted network solutions was found guilty of breaching the Work Equipment Regulations due to a workplace accident in 2016. The manufacturer was fined £100,000 after an employee's hand was caught by a clamp and crushed while operating a socket machine. Health and Safety Executive (HSE) investigators reported that the machine did not have a guard in place to prevent the operator from contact with the clamp.
In another case this year, a UK based food manufacturer was fined more than £180,000 for breaching health and safety regulations after one of their employees suffered partial amputations of all four fingers in a machinery related incident in 2017. HSE investigators found the employee accidently slipped on the ladder they were standing on while clearing a blockage in a collection hopper. As the employee tried to balance themselves, they had reached out their hand which came into direct contact with the rotary vane. The company had not carried out a risk assessment of the task for clearing out blockages in the collection hopper. If a risk assessment had been completed for this particular task, it is far more likely that suitable measures would have been in place to minimise the contact with moving parts of the machine.
According to international machinery safety standard ISO 12100:2010, the first control measure in risk reduction is inherently safe design. This is the starting point in risk reduction and considered the most effective. However, where elimination of all hazards is not possible the next control measure is the use of engineering controls such as guards and safeguarding devices. These are critical for protecting the employee and preventing injury caused by mechanical hazards. Unfortunately, there are incidents where safeguards on machinery are either poorly designed, improperly installed or completely absent, leading to a serious or fatal injury to the worker. This is where we see the benefits of conducting machinery risk assessments – to identify the hazards and apply the necessary risk reduction measures.
As we move into the final quarter of the year – even with the many economic uncertainties still present – employers should continue to assure best practices and safeguarding of their machinery and equipment to protect the organisations reputation, remain compliant, and most importantly, to protect the well-being of their employees.
---
Chris Mee Group consultants who hold CMSE® – Certified Machinery Safety Expert certification (accredited by TÜV Nord) can assist you in completing Machinery Risk Assessments, identifying practical engineering solutions & CE Certification requirements. Our specialists provide practical advice, training, and machinery solutions to support your particular needs.
Have a question? Chat to us instantly by clicking the chat box in the bottom right-hand corner of your screen. Alternatively, you can email us at [email protected]