Aisling Hegarty, EHS Consultant based in the Cork office, reflects on the HSA Workplace Fatality figures for 2020.
According to the Health and Safety Authority (HSA) latest Fatal Workplace Injuries figures report, as of September 18th, a total of 39 people have unfortunately been killed in accidents at work during 2020.
Comparing to previous full year figures, the number of workplace fatalities were 47 in 2019; 39 in 2018; 48 in 2017 and 48 in 2016. In recent years, the 39 fatalities recorded in 2018 was one of the lowest numbers of workplace fatalities on records. However, despite the current pandemic circumstances, it would appear that 2020 is heading for number in the mid to late 40s.
A decrease in fatalities and injuries would be anticipated this year due to the impact of COVID-19 on the Irish economy. However, the implementation of the government's Return-to Work Safety Protocols and COVID-19 Response Plans allowed some sectors, such as manufacturing and construction, to begin reopening from May and June. Some sectors remained relatively unimpacted by the pandemic such as Agriculture.
The year on year comparison of fatalities in the workplace is shown in the table below: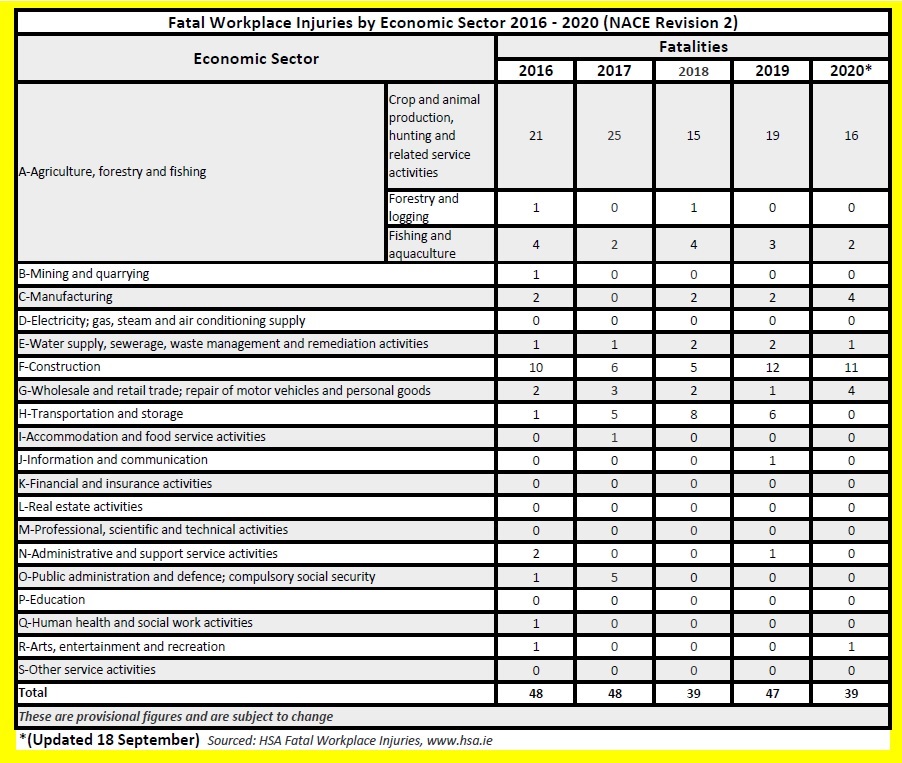 According to the latest figures, the Agriculture sector accounts for 41% of the fatalities to date in 2020. A similar trend can be seen in previous years where the sector accounted for 40% of fatalities in 2019; 38.5% in 2018 and 52.1% in 2017. In early April, the HSA had expressed concerns of a possible increase in child fatalities on Irish Farms due to school closures amid COVID-19 restrictions. Agriculture still remains the most dangerous occupation in Ireland, with older farmers to be the most vulnerable to fatal accidents due to reduced mobility, eyesight impairment and balance.
The construction sector accounts for 28% of fatalities in the workplace in 2020 so far, which is the highest rate reported in the last number of years. In comparison to previous years, the sector accounted for 25% of fatalities in 2019; 13% in 2018 and 13% in 2017. In 2019, HSA reported most construction fatalities were related to falls from heights. We should expect the final Health and Safety Authority (HSA) Report for 2020 to provide further insight into workplace fatalities for this year.
One apparent area for positivity is Transportation and Storage, an area subject to a lot of focus in recent years. The year to date figure of zero is very encouraging indeed.
---
Chris Mee Group are industry leaders in the areas of Behaviour Based Safety (BBS) and Observational Based Safety programmes. Find out more about how BBS systems can help you to reduce accidents.
---
For the latest information on fatalities and injuries statistics visit: