Members of the ISO 45001 work group have been notified that following a recent ballot by the participating members of the ISO committee the new international standard for occupational health and safety – ISO 45001 has failed to gain approval.
The ballot required two-thirds to be in favour and less than a quarter to be against (taking into account abstentions).
Results were as follows: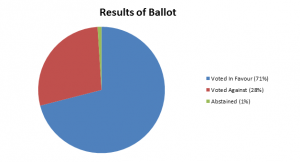 The ballot consultation gained over 3,000 comments, the consideration of which will likely delay publication of the standard, until February 2017.
Richard Jones, head of policy and public affairs with IOSH said: "While we cannot go into detail, there are a variety of reasons why participating members have voted against this, and these will need to be resolved at a meeting next month. Once concerns about the standard have been addressed, a revised version (DIS2) will be produced for further consultation and ballot.
CMSE Consultancy is a leading provider of OHSAS 18001 and Safety Management Systems. We work with many clients to gain OHSAS 18001 accreditation. For more information please click here
CMSE Training is a leading provider of fully accredited IOSH training courses.  These courses will benefit your company by improving workforce well-being, increasing productivity and enhancing your corporate reputation while also saving on long term costs.  For more information please click here
Source: IOSH Connect