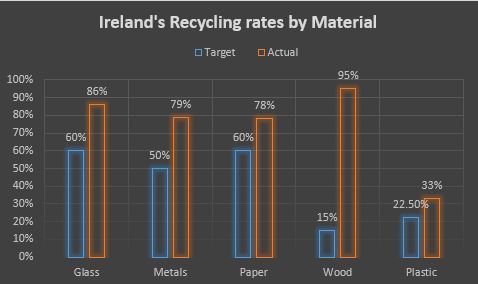 The European Commission's recycling and recovery targets have were surpassed again in 2018 according to Repak. Ireland's overall recycling rate for all materials is 68% which is 13% above the EU target.
Household and domestic recycling increased by 2% in 2018, with commercial recycling increasing by 3%.
To in keep with the EU 2025 targets, Ireland will need to raise it's recycling by a further 17%.
Carbon Action – part of Chris Mee Group are a leading provider of environmental related Carbon Training & Climate Change Consultancy services in UK, Ireland & abroad. Our clients range from large multinationals to SMEs. If you have any questions regarding Microbeads please do not hesitate to contact one of our experienced Consultants by filling in the enquiry form on this page.
Read similar News topics:
Source
https://www.thejournal.ie/ireland-recycling-4699469-Jun2019/?utm_source=shortlink