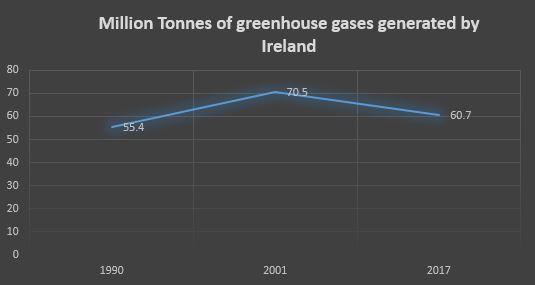 The Environmental Indicators Ireland CSO report released this week shows that in 2017 Ireland generated 60.7 million tonnes of greenhouse gas, working out at 13.3 tonnes per capita of CO2 equivalent.
These figures are exceeded only by Estonia and Luxembourg meaning Ireland has the third highest emissions of greenhouse gases per capita in the EU. At 5.5 tonnes per capita, Sweden, had the lowest rate of emissions
Though a 13.9% reduction compared with the 2001 peak emissions figures of 70.5 million tonnes, 2017 emissions figures are still 9.56% higher than 1990's figure of 55.4 million tonnes.
Emissions by Sector;
Waste and F gases 4%
Residential 9%
Industry, commercial and Public Services 15%
Energy 19%
Transport 20%
Agriculture 33%
Carbon Action – part of Chris Mee Group are a leading provider of environmental related Carbon Training & Climate Change Consultancy services in UK, Ireland & abroad. Our clients range from large multinationals to SMEs. If you have any questions regarding greenhouse gas measurement or reduction please do not hesitate to contact one of our experienced Consultants by filling in the enquiry form on this page.
Source:  https://www.irishtimes.com/news/environment/you-looking-at-me-where-ireland-s-greenhouse-gas-emissions-come-from-1.3998686