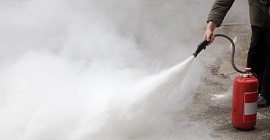 Scheduled Course Venues and Dates
This course is available on a private basis only. This allows courses to be targeted towards your own companies requirements. To arrange please call 1850 315 415. For enquirys please fill in the form below. Our Training team will be in touch.  All managers, supervisors or employees with responsibility for fire safety within an organisation can undertake this course.
Participants: Up to 12
Duration: Half Day
Assessment: MCQ Test
Certification: CMSE Training Certification
Course Programme
Course Introduction
Legal Module
Theory of Fire and smoke behaviour
Identify possible fire hazards in the workplace
Preventing Fire
Human behaviour and fire fighting – Theory & Practical
The Role and Responsibilities of Fire Wardens
Fire Evacuation Procedures (Site Specific)
Fire Safety in the home Practical Exercises Course quiz
For more Information
Call 1850 315 415, Email [email protected] or Send a Quick Enquiry below.