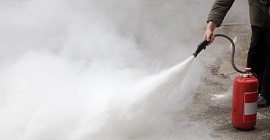 Scheduled Course Venues and Dates:
This course is only available as a private course. Contact us on 1850 315 415 or email info@cmse.ie for more details.
Participants: Up to 12 personnel
Duration: Half Day
Assessment: MCQ Test
Certification: CMSE Training Certification
Course Programme
Course Introduction
Legislation Module
Theory of Fire and smoke behaviour
Identify possible fire hazards in the workplace
Fire Prevention
Human behaviour and fire fighting – Theory & Practical
The Role and Responsibilities of Fire Wardens
Fire Evacuation Procedures (Site Specific)
Fire Safety in the home Practical Exercises Course Debrief
For more Information
Call 1850 315 415, Email info@cmse.ie or Send a Quick Enquiry below.