ERT Training for Industrial Fire Crews
CMSE Training is a leading provider of Emergency Response Team (ERT) training for Industrial Fire Crews for over ten years.  We deliver this training to many sectors incl. Pharma, Chemical, Oil & Gas, Marine, Offshore and more.  Our Clients include GlaxoSmithkline, Pfizer, Henkel, Shell, Novartis, Stena Line. We also train SME teams. Our Clients are our greatest advertisement, review our Testimonials pages. 
In all cases our programmes are customized for the individual fire crews based on the specific requirements and risks.  Contact Us today for more information or to discuss the specifics of your ERT training requirements.
CMSE Fire Centre – Video
Our Venue – CMSE Training Fire Centre
The CMSE Training has a State of the Art Fire Centre located near Cork International Airport and close to Ringaskiddy Industrial zone.  CMSE staff will organise accommodation if necessary.
All CMSE trainers are fire brigade instructors or fire engineers who work full-time in the fire engineering profession.  We use flashover units, helicopter simulators, flange fires, claustrophobic units, confined space tanks/tunnels, "Aquarium Unit", etc.  We are unique in that we only use clean burn equipment.  Hence we are the safest provider and the most environmentally friendly provider.
I found CMSEs service to be professional, productive, and very successful. I also found their facility to be ideal, and I plan to work with CMSE again in the near future."
Enquire about the ERT Training Course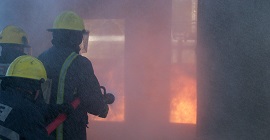 Dublin Office: +353 1 517 5270    

Cork Office: +353 21 497 8100
ERT Training for Industrial Fire Crews
Scheduled Course Venues and Dates:
This course is only available as a private course. Contact us on 1850 315 415 or send an enquiry – see below.
Participants: Up to 10 personnel
Duration: 4 days
Assessment: MCQ Test, Practical test
Certification: CMSE Training Certification
Who Is This Course For?
Emergency Response Teams, Industrial Fire Crews and ERT team leaders.
Course Programme
Customised course programmes are prepared for all our clients.  The programmes are made up of various modules including confined space, chemical handling/chemical spill, breathing apparatus, search and rescue, fire exercises, LEL and UEL training and many more.  Our ERT training is site and industry specific but don't be concerned our expert instructors will work with you to  customize the training and equipment to your company.
Sample Programme Modules
Understanding Fires
Action in the event of fire
Use of fire equipment
Breathing Apparatus
BA Control procedures
Guide and personal lines
Search procedure
Entrapped procedure
Practical exercises
Selection of PPE
Information retrieval
Substance identification
Chemical Hazards
Physiology of respiration
Working in heat and smoke
Cleaning and servicing sets
Clean, check and store equipment
For more Information
Call 1850 315 415, Email [email protected] or Send a Quick Enquiry below.
Sign up to get our Newsletter!!