Provisional statistics issued by the Health and Safety Authority (HSA) reveal an 18% increase in fatalities from work related accidents in 2019 with 46 people losing their lives.
The figures show;
The majority of deaths (44) were men compared to two females – both non-workers.
Six of the fatalities occurred with people under 35 years old, including three children.
With six deaths, April was the most dangerous month. November had no reported fatalities.
Agriculture remains the most dangerous sector in which to work with 18 deaths, up from 15 in 2018.
Construction related fatalities increased from 5 in 2018 to 12 people losing their lives in 2019
The five main causes of workplace fatalities in 2019 were getting trapped or crushed, struck by a vehicle, falls from heights, drowning or being struck by a falling object.
Trapped or crushed (17)
Vehicle (8)
Cattle (3)
Machinery (2)
Bales (2)
Other (2)
Struck by vehicle (9)
Impact following fall (7)
Drowning (5)
Struck by falling object (4)
Other (4)
Wexford had the highest number of workplace fatalities in 2019 with 7 deaths, Dublin had 6, and Cork had 5.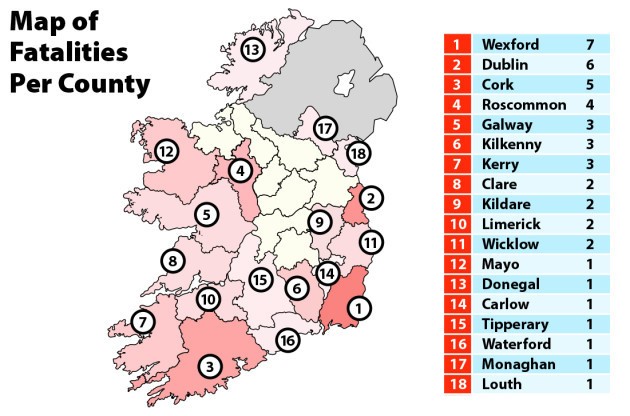 Source: HSA
For a more detailed breakdown please visit the HSA website

HERE
Similar topics