Jake Bumpus and Aisling Hegarty, health and safety consultants from the Cork based consultancy team of Chris Mee Group explore the recent surprise recall of a hand sanitiser based on its methanol content.
News broke recently that the Department of Agriculture had advised that a hand sanitiser used extensively in schools and health service establishments was to be returned to the supplier on a precautionary basis due to public health concerns. Minister for Agriculture Charlie McConalogue, speaking in the Dáil, said the recall was based on concerns that it contained too much methanol and not enough ethanol.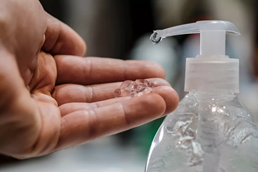 The HSE has confirmed that one million units of the product had been distributed to health service locations across the country. A statement by Department of Agriculture, Food and the Marine regarding the product says, "…prolonged use of that product may cause dermatitis, eye irritation, upper respiratory system irritation, or headaches." This has prompted many concerns among the public and prompting questions the use of ethanol and methanol in hand sanitiser.
Methanol and ethanol are both variants of alcohol with similar chemical structures, however the difference in the chemical structure of methanol makes it considerably more toxic. Both alcohols also have very different properties and uses. Methanol, also referred to as wood alcohol, is made primarily from natural gas. Uses of methanol include fuels, antifreeze products, cleaning products and some industrial solvents such as inks and resins. Ethanol is a natural by-product of plant fermentation and has many uses as an antiseptic, preservative and additive in personal care products, household products and food products. Ethanol is found to be very effective biocide for killing microorganisms like bacteria, viruses, and fungi, leading to its use as the main active ingredient in hand sanitizer.
Even with ethanol-based products it has been found that excessive use of ethanol-based hand sanitisers can increase the permeability of skin and deplete natural skin oils, leading to irritation and some skin roughness. However, the use of ethanol in hand sanitisers is considered far damaging and less toxic than methanol. According to the FDA, the use of methanol in hand sanitisers is not acceptable due to its toxic effects, and people who have ingested products contaminated with methanol have suffered harmful health effects such as blindness and even death.
If methanol is so toxic, why would it be used in hand sanitisers? It is possible that the demand for hand sanitiser during the initial stages of the COVID-19 pandemic caused shortages of ethanol and another alternative, isopropyl alcohol (IPA), forcing manufacturers to use methanol as an alternative. Accidental contamination of products can also occur during manufacturing processes. Cost reduction may also have played a part in the use of methanol as an alternative to increasingly scarce ethanol.
The answer to this question in terms of the ViraPro products remains unknown at this time and subject to investigation. Current guidance and approvals are based on sanitiser products containing 70% ethanol and avoiding the use of hand sanitisers containing methanol as a biocide. Employers looking to purchase alcohol-based hand sanitisers should ensure they only use reputable suppliers and should review the relevant Safety Data Sheet (SDS) before use.
---
Since the COVID-19 pandemic began, Chris Mee Group have continued to assist our clients to ensure that their workplaces remain as safe as possible for their staff and the public.
If you would like to discuss any chemical or COVID-19 related issue, please feel free to contact the consultancy team at Chris Mee Group.
---
You may also be interested in:
Have a question? Chat to us instantly by clicking the chat box in the bottom right-hand corner of your screen. Alternatively, you can click here to email [email protected]