Current statistics point to an 'aging workforce' as a significant developing issue now and for the future.
Unfortunately none of us get any younger and an ERSI report last year (2019), "The Ageing Workforce In Ireland, Working Conditions, Health and Extending Working Lives" defined an 'older worker' as anyone over the age of 55. Meanwhile the Age Discrimination in Employment Act in the USA classifies an 'older worker' as anyone 40 years or older! A common landmark is closing into pension age eligibility, often 65 years or thereabouts. Whatever the cut off or definition of an older worker, the age demographic of workers approaching the 'older worker' bracket is increasing. The gap to the younger workforce coming through is widening, which may have negative consequences in years to come if not acknowledged and understood sufficiently in the modern workplace.
According to the United Nations, by 2050, one in three people living in the developed world will be over 60. In Australia, one in four people is older than 55 and over the next decade this will increase to approximately one in three. In Ireland 18% of the working population falls into the 55 and over age bracket while it is forecasted that by 2031, 32% of the working population will be 50 years and older. This is a large portion of the workforce that is potentially neglected due to their work environment unable to adapt to the changes needed.  The changing workforce demographics in Ireland are illustrated in the diagram below.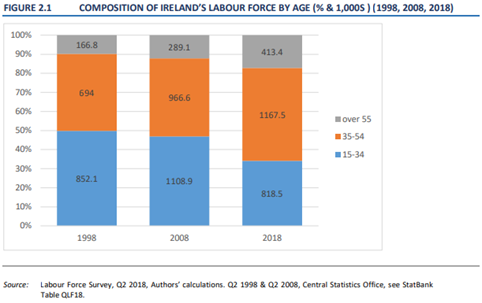 A 2014 report stated that in Ireland ill health was the second most common reason given for retiring (15%) behind eligibility for the pension (42%).  It is known that several key physiological functions deteriorate with age. These include measures of muscle strength, shrinkage of intervertebral discs, dexterity, and mobility along with visual deterioration. This can make physically demanding work environments more challenging for these individuals such as those encountered in construction, agriculture, front line manufacturing etc. These industries have physical tasks that when these individuals were 'young fit and able' may have posed little challenge at the time. Such tasks have the potential to cause longer term chronic musculoskeletal disease however when completed over many years.
Every effort should be made not to lose valuable employees and experience through injury and ill health due to poor workplace ergonomics. Often these issues are discovered when it is too late. Just like assessing a workstation, we would not design a station that only suits workers with long upper arm reach or herculean strength. We want to design tasks to accommodate as broad a spectrum of the work population as practical, this should include the limitation and capabilities of both younger and older workers, while still accepting and maintaining a healthy level of exertion and movement.
Being proactive with a comprehensive ergonomic programme in the work place not only identifies risks that have the potential to increase risk of musculoskeletal injury, but can help educate and accommodate a work process that reduces risks for the younger workforce not to develop issues later in life and promote better employee retention in an older workforce.
---
CMSE Consultancy offers ergonomic support in training, postural assessments, industrial ergonomic risk assessment and implementing an ergonomic programme.
Have a question? Want to set up a discussion on how best to evaluate these potential issues and proactively implement change?
Chat to us instantly by clicking the chat box in the bottom right-hand corner of your screen. Alternatively, you can click here to email [email protected]
You may also be interested in: