OHSAS 18001 Services
Enquire about OHSAS 18001 Services Consultancy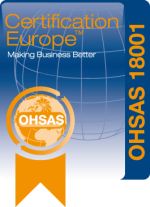 CMSE Consultancy is a leading provider of OHSAS 18001 and Safety Management Systems in the Irish workplace. We work with many clients to gain OHSAS 18001 for them. During this preparation phase we use the 18002 document as a guidance for our clients. Our services include the initial Gap Analysis and improvement plan, risk assessment standardisation, assisting you in preparation for the pre-audits and certification audits, internal auditor training, maintenance of the certification once it is in place and anything else you need to get and maintain the certification.
CMSE Consultancy have extensive experience of implementing effective safety management systems within all industrial and commercial sectors. Our clients vary greatly in size, complexity and risk profile
We use a scaled approach to your safety management needs – the approach for the small organisation and the large organisation must be proportionate and based on reasonable standards and available company resources at all times
CMSE Consultancy always use practical solutions for each individual client, so we ensure that key stakeholders are involved, from managers and supervisors to operators and safety representatives as appropriate
We have particular experience of implementing the BS OHSAS 18001:2007 standard. We have several consultants who are trained to IRCA approved training standards
Services Provided By CMSE Consultancy
Gap Analysis on your current situation against OHSAS standards, legislation and codes of practice
We can deliver top quality internal auditor training and/or mentoring
Supporting your implementation of an effective hazard identification / risk assessment programme and development of appropriate risk controls
Developing business specific objectives, targets and management programmes, supported by performance measurement and review mechanisms that instil a continuous improvement ethos
Providing training on complete systems implementation or on individual sections of a specific safety management standard. These can be either generic or client specific
Developing internal and external inspection / audit schedules to ensure continuing progress and improvement. Alternatively we can conduct routine or random audits on your behalf
Supporting you from start to finish to achieve accreditation to the BS OHSAS 18001:2007 standard
Good Safety Management Systems Are Holistic And Integrated
A well implemented safety management system will not only reduce injuries and illnesses, but can also improve morale and productivity – especially if integrated with other business systems. With our multi-disciplinary systems team, we encourage a holistic and integrated approach to risk management. We can also integrate your safety management system with other systems such as ISO 9001:2008, IS 14001:2004 and IS 393:2005.
Legislation and Social Responsibility
The legal onus is now firmly on organisations to prove that they manage their activities in a manner that effectively preserves the health, safety and welfare of employees and anyone else these affect – from contractors and customers to visitors and the public. Additionally, companies are coming under increasing pressure from corporate bodies, customers and suppliers to implement procedures that demonstrate social responsibility.
In this context, we guide organisations through implementing procedures for continuous improvement in managing health and safety, using formalised safety management systems such as:

BSi OHSAS 18001:2007
ILO-OSH
BS8800:2004
HS(G)65
Did you know that CMSE Consultancy also offer EMAS and ISO 14001 Consultancy? Click here for more information
Sign up to get interesting news and updates delivered to your inbox.