DSE/VDU Ergonomic Assessments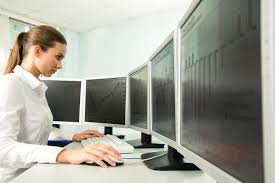 Display screen equipment (DSE) and Video Display Units (VDU) are now widely used in all workplaces and have been proved to be contributing factor to back injury, eye strain and repetitive strain injury.  It is now widely recognised that while accidents and ill health have costs, often hidden and underestimated – effective workplace ergonomic management actually contributes to business success.
DSE/VDU Ergonomic Risk Assessments from CMSE Consultancy will now assess all of your workstations and work environment for potential hazard and identify controls to reduce your level of risk.  CMSE Consultancy is a leading provider of Ergonomic services including risk assessments, Video Display Unit (VDU); Display Screen Equipment (DSE): work station reviews, task assessments (work rotation schedules) and repetitive strain injuries (RSIs) assessments. CMSE Consultancy delivers cost effective, practical services to our clients nationwide.
DSE/VDU assessments can be provided for client's in smaller numbers right up to large, managed Programme solutions for bigger multisite organisations. CMSE Consultancy can make use of our software system offering to provide initial assessment and training through to the management of corrective actions and follow up assessments.
Enquire about DSE/VDU Ergonomic Assessments
CMSE Consultancy Ergonomic Services
We have qualified ergonomic consultants who will visit your office and provide an extensive, personal VDU/DSE service.  Each workstation is individually assessed to take into account the hazards in the work location.
CMSE Consultancy DSE/VDU Assessment will review your:
Workstation Design– monitor, keyboard and mouse
Workplace Layout– desktop and positioning
Lighting Levels– in the work area
Work Routine– rest and work periods
Correct Posture– how we sit, stand and move
A full report is then written recommending the necessary changes that need to be made to bring your business in line with current legislation and VDU/DSE regulations.  We won't just improve your work space but we will also impart practical advice to ensure your remain compliant in the future. That way you can benefit from our expertise and experience tailored to your individual circumstances and put to test in your work environment.
Your legal requirements for providing DSE/VDU Assessments
As well as general duties under the Safety, Health and Welfare at Work Act 2005, the Safety, Health and Welfare at Work (General Application) Regulations, 2007, Chapter 5 of Part 2: Display Screen Equipment outlines the minimum safety and health requirements for work with display screen equipment and place specific duties on employers and employees.
As an Employer you are now required to provide your employees with:
A Risk Assessment on their Workstation
An eye test before working with Visual Display Units
Information on the application of Safe Work Practices
Training in the safe use of their workstation
Periodic rest breaks
Employers now must pay particular attention to eyesight, physical difficulties and mental stress and put in the precautions to control any risks identified.  By law VDU or DSE Assessments must be undertaken on all computer workstations where an employee will spend longer than 1 hour per day.
Why work with CMSE Consultancy
Achieving legal compliance
Gaining greater corporate responsibility
Increasing employee productivity
Developing safer and healthier Employees

 

Increasing levels of staff morale
Did you know That CMSE Consultancy also offer Ergonomic assesments? Click here for more information
Sign up to get interesting news and updates delivered to your inbox.