Gary Horgan (CMSE Consultancy Manager at the Chris Mee Group) and his team are outlining the path for companies to ensure they are compliant with Part 8 "Explosive Atmospheres at Places of Work" of the Safety, Health & Welfare at Work (General Application) Regulations 2007 in a series of focussed blogs.
This is blog number 11 in the series, written by Gary Horgan.
---
Studies of explosion accidents by ignition type have identified that;
8-10% are attributed to electrical arc & sparks and
12% are attributed to hot surfaces, potentially caused by electrical faults within equipment.
So, it can be extrapolated that potentially approx. 20% of explosions can be contributed to electricity. Therefore, it is important that this source of electrical ignition is controlled to prevent explosions in the workplace. When selecting electrical equipment for potential explosive atmosphere (dust, vapours, or gases) it is important that the electrical equipment is selected based on several criteria and you have a clear understanding of the physical properties (Ref. Safety Data Sheets & Product test data). The criteria includes:

Note 1 Gas Group 1G and Dust Group 1D is the highest specification equipment.
Note 2 If you select by mistake a 3D (Zone 22) type equipment for a 2D (Zone 21), this equipment has the potential to ignite a dust cloud atmosphere.
Note 3 Do not install Dust Group equipment 1D,2D or 3D in gas and vapour explosive atmosphere if not rated.
2              Select the correct electrical equipment, Gas Group based on the Minimum Ignition Energy (MIE measured in mJ) of the dust, vapours, or gases at your workplace;
Gas & Vapours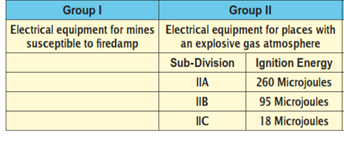 Note 1 IIC equipment is the highest specification equipment for gases and vapours.
Note 2 Selecting the incorrect Gas Group i.e., IIA (methane) say in a hydrogen area (IIC) has the potential to ignite a flammable hydrogen gas mixture.
Dust
3              Select the correct electrical equipment based on Auto-Ignition Temperature (AIT degrees OC) of the dust, vapours, or gases at your workplace;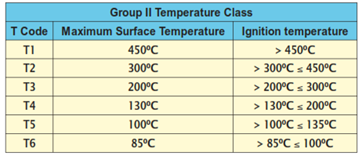 Note 1 Selecting the incorrect Temperature Class has the potential to ignite a flammable dust, vapours, or gases atmosphere.
Note 2 When you are dealing with dust and there is a potential for equipment to be covered you must also consider the effect of the dust layer cover. As a guide for a dust layer cover depth of 5mm you should reduce the Auto-Ignition Temperature by a factor of 0.66. So, for example if you know your powder has an AIT, T1 is 4500C, then 450 x 0.66= 2970C, so therefore you should select a T3 rated equipment which has an ignition temperature between 200 – 3000C.
Sample Ex Equipment Label

To summarise this label based on what I discussed earlier in this blog:
II             Above ground type installation (not a below ground mine),
1GD       Category 1 equipment (Zone 0 & 20) suitable for Gas, Vapour and Dust explosive atmosphere,
EEx         Conforms to European Ex-standards,
IIC           Gas Group C, MIE; 0.001mJ,
T4           Auto-Ignition Temperature Class, suitable for ignition temperature range >130 – 200OC.
---
Sign up here to receive the next article in this series directly to your inbox before it goes live to the public 
CMSE Consultancy provide professional Occupational, Process, Explosion & Fire Safety Services.
If you require further information or assistance please contact us via email at [email protected], by phone at 021 497 8100 or start an instant chat with us via the chat box in the bottom right-hand corner of your screen.