DSE & Ergonomic Solutions for Working at Home
Due to the COVID-19 pandemic, more and more employees are now working from home. CMSE Consultancy, part of the Chris Mee Group has been a leading provider of Ergonomic Assessment Services nationwide for many years. These include Video Display Unit (VDU); Display Screen Equipment (DSE): work station reviews, task assessments and repetitive strain injuries assessments.


We have developed interchangeable packages that allow us to deliver cost-effective solutions to our current and future clients. We understand the importance of home working ergonomics.

Our packages include:-
1. Video training
2. Self – Assessment
3. Video Consultation

Our experienced health & safety consultants are on hand to continue to provide vital assessments for those who now find themselves working outside of their usual desk.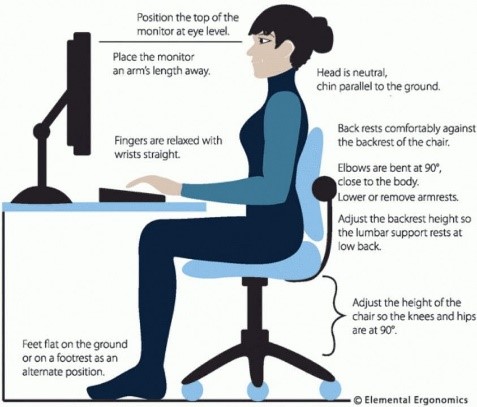 Self-Assessment Survey
Your designated consultant will share a self-assessment document with you via email. This self-assessment will assist in identifying any homeworking ergonomic issues you may have. It includes a checklist that will help is complete a homeworking assessment of your home office setup.
Video Consultation
Our ergonomics consultant will arrange for a video consultation. A number of video conferencing methods are available. Through your video consultation, your consultant will review your self-assessment and make appropriate changes to your work station, immediate working environment and anything else deemed necessary in order ensure that your home working ergonomics are correct. Throughout the assessment, screenshots will be taken in order to provide a 'before and after' view, so changes to the environment can be tracked. Safety questions will also be asked.
Your assessment will centre around practical advice, allowing you to work with what you have and to avoid any strain or injury from incorrect positioning of equipment.
Finally, the H&S consultant will then generate a report with all findings from the video consultation.
Online DSE Awareness Course
This online display screen equipment course is aimed specifically at users of display screen equipment (DSE) and those responsible for assessing display screen equipment. In the current climate, more and more people are now working remotely; it is important that their display screen equipment is correctly positioned in order to avoid strain and injury.
This course fulfils your statutory training obligations and covers the correct way to set up and use your display screen equipment safely, in turn reducing the risk of work-related conditions.
This course is approved by IIRSM and takes approximately 50 minutes to complete. The modules of the course include:
Legislation
Protecting your body
Adjusting your chair
Adjusting your screen
Working Arrangements
Adjusting the layout of your work station
Adjusting your work environment
Legal requirement duty to provide Homeworking Assessments
As well as general duties under the Safety, Health and Welfare at Work Act 2005, the Safety Health and Welfare at Work (General Application) Regulations, 2007 require that
Testimonial
"I would like to confirm that Lorraine from Chris Mee Group did an Ergonomic assessment with me last Friday. I found it to be very, very thorough. Lorraine explained everything to me in detail. She taught me how to properly use and set the controls on my chairs, both in the interview room and at my desk. She helped me to move around the computer to the most advantageous position to cater for both my back problem and my eyesight. She noted the way I normally work, the type of work I do etc. in order to gauge the correct recommendation for me. I found her to be excellent and thorough."
Display Screen Equipment User
Department of social protection