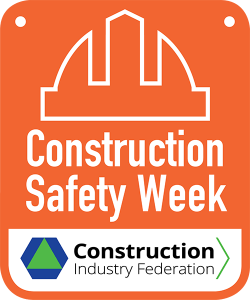 Construction Safety Week 2022 sees the Construction Industry Federation calling for a renewed focus on the 'nuts and bolts' of construction safety.
Construction Safety Week is a national awareness campaign aimed at promoting positive safety and health across the country's 159,000 construction workers, clients and related industries.
The five themes Key diary dates for Construction Safety Week 2022 are as follows:
Monday 17th Safe access and egress,
Tuesday 18th Safety by example
Wednesday 19th Safe working at height
Thursday 20th Safe use of mobile equipment
Friday 21st Safe control of hazardous energies
According to the latest Health and Safety Authority figures, there were 794 people injured across the construction industry in 2021. This is a 4.3% increase in injuries on the previous year.
From 2017 to 2021, the top three causes of construction-related accidents were:
Slips, trips and falls (702 incidents)
Lifting and carrying (560 incidents)
Falling from height (519 incidents)
---
Our Construction Safety week 2022 gift to you!
Use Promo code "CIFSafety22" for a 25% discount on any of our Online Training Courses including;
*Offer expires November 1st
---
Chris Mee Group has a host of Construction safety experts. Our experienced team can take care of all our your Construction Training, Recruitment, Consultancy & Software requirements.
Have a question? Chat to us instantly by clicking the chat box in the bottom right-hand corner of your screen. Alternatively, you can click here to email [email protected]