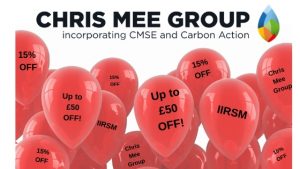 Having successfully completed your IIRSM approved course, you will receive a discount code for :
15% off Your first year's affiliate subscription
Or
Your application Fee (£50) waived if joining as an associate or full member.
What is the IIRSM?
The International Institute of Risk and Safety Management IIRSM is a professional body that offers recognition, information and support to over 8,000 members around the world in all areas of risk and safety management.
What is the benefit to being a member IIRSM?
All members of IIRSM have access to an extensive range of relevant, valuable features and benefits. These benefits can include:
Networking opportunities

Unlimited use of the Health and Safety Technical Helpline

Legal Helpline (UK law and covers all matters, including H&S)

Business or personal advice from the HR and Employment

Free access to the Health and Safety at Work online

And much more
IIRSM approved online courses available through Chris Mee Group include:
Sign up to any of these courses by clicking on the course name.
For more information on Online training please fill in the form below and a member of our support team will contact you as soon as possible.