The COVID-19 pandemic and resulting lockdowns are taking a toll on almost every aspect of contemporary life, including mental health and well-being.
CMSE Training are delighted to launch this half day course.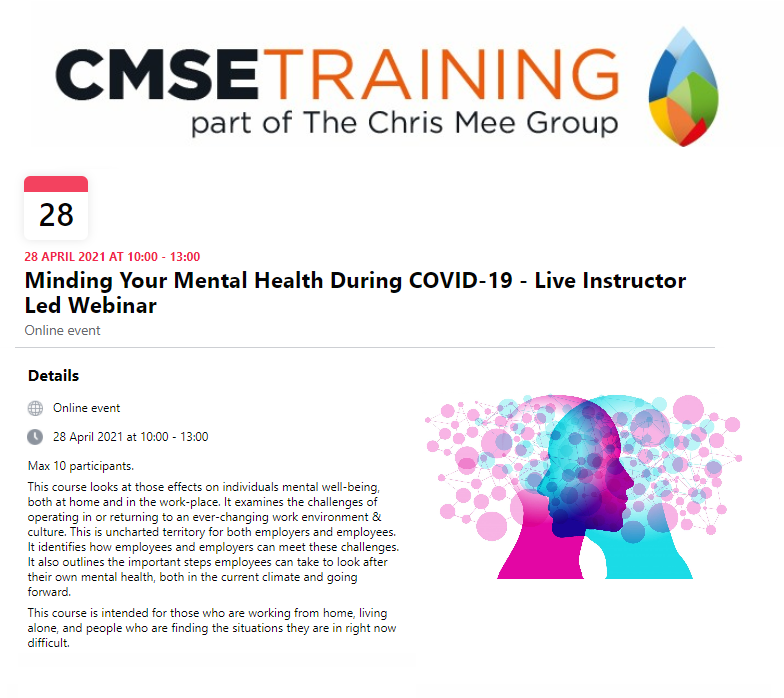 Course Programme
Effects of Covid 19 on your Mental Health
Identifying "unhelpful thinking styles"
Managing information/misinformation
Working from home "Making it work for you"
Impact of Lone Working
Returning to a changed work environment
How Employees can meet the challenge
How Employers can meet the challenge
Looking after your Mind & Body
Minding your Mental Health during the pandemic
Learning to "Control the Controllables"
Pruning the Mind
Stress Management Strategies
Building resilience
Maintaining Healthy Mind & Healthy Body
---
CMSE Training is a leading provider of PUBLIC and PRIVATE Health and Safety training courses in Ireland. Every year we deliver training to more than 21,000 people. See our Public Health and Safety training course details below. You can BOOK NOW online.