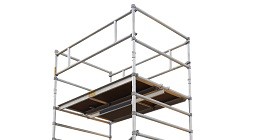 CMSE Training have recently launched two new CSCS Mobile Access Tower Scaffold courses. The two courses are aimed at Experienced (1 day course) and Beginner / Novice (2 day course) personnel.
These courses are intended for people who work in the scaffolding industry and are suitable for Managers, Supervisors, and all employees who are required to erect and dismantle scaffolding. On completion of the course, graduates will be able to erect and dismantle a mobile access tower in full compliance to the current legislation requirements.
The courses will cover such topics as Safety Legislation, Working At Height, Fall Protection, Types of Aluminium Towers, Understanding Dangerous Situations, Following Manufacturers Instructions, Erecting a Mobile Tower, Working On Mobile Towers Safely.
Attendees who successfully complete the course will gain a FAS Certificate and a CSCS Card. The certificate is valid for 5 years.
As well as offering these training courses, CMSE have also teamed up with Martin Scaffolding to provide a Scaffold Hire service. Martin Scaffolding have been established for 25 years and over that time have built a reputation for efficiency, safety and professionalism. Their business is built on long-term client relationships, based on a high standard of quality, safety and service.
With a reputation forged initially in the pharmaceutical sector, Martin Scaffolding now embrace all types of scaffolding services in the commercial, industrial, educational, healthcare, tourism and leisure sectors. The partnership with CMSE will allow clients to access a full range of hire and training services.