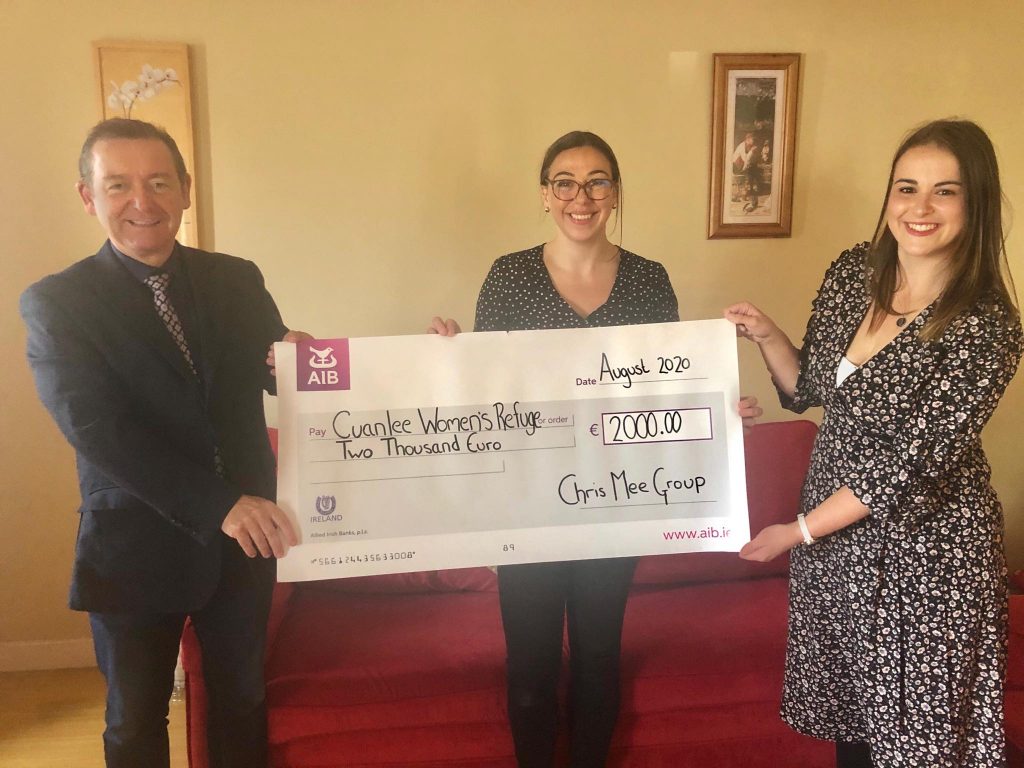 CMSE Recruiter Ciara O'Dwyer & Chris Mee hand over a cheque for €2000 to Cuanlee Refuge on Kyrl's Quay, Cork.
Staff from Chris Mee Group recently completed a walkathon in aid of Cuanlee Refuge.
The challenge spearheaded by CMSE Recruiter Ciara O'Dwyer & CMSE Consultant Michael Gleeson was for the Cork and Dublin based teams to walk (privately & socially distant) from their own office location to the other respectively. This would amount to approximately 500KM total. The teams quickly exceeded the KM's for the walk and hit over 1100KM's. The teams raised almost €1000 through the challenge which Chris Mee Group matched to bring the final donation amount to €2000!
---
About the Cuanlee Womens Refuge
Cuanlee Refuge provides safe & secure crisis accommodation for women and children experiencing domestic abuse. They assist women who wish to move on and live independently, free from violence.
Since Covid-19 lockdown, Gardai have recorded a 25% year on year increase in calls for assistance around domestic issues. Traffic on the charity's website has also spiked, rising by 74 per cent in recent months.
Cuanlee offer;
Crisis Accommodation
Support and Information
24 Hour help Line
Child/Adolescent services
Outreach Social work
Domestic Abuse Workshops
Court accompaniment & Preparation service
Helping people who need it develop a safety emergency plan in a time of crisis if an explosive incident occurs.
Read More: https://cuanleerefuge.org/