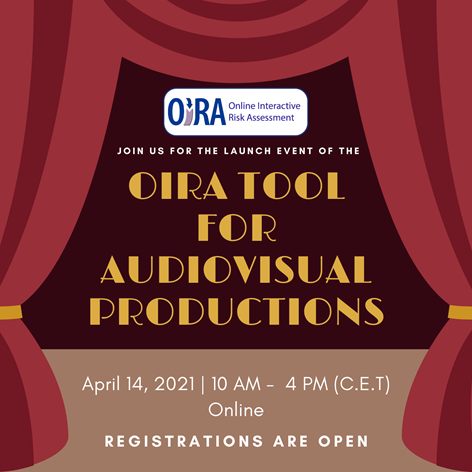 OIRA would like to invite you to the launch event of the Online Interactive Risk Assessment tool (OiRA) for the Audiovisual Sector that will take place online on the 14th of April 2021. 
The event will be divided into 2 sessions:
– Morning session from 10.00 AM to 11.30 AM Central European Time (C.E.T.)
– Afternoon session from 14.30 PM to 16.00 PM Central European Time (C.E.T.)
Live Interpretation in English, French, and Spanish will be available.
This event is free to virtually attend, but registration is required. Click here to register
---
Info on OIRA:
OiRA, (Online interactive Risk Assessment) is the web platform that enables the creation of sectoral risk assessment tools in any language in an easy and standardised way.
The OiRA community is made up of the organisations and people developing OiRA tools. It aims to facilitate the development of OiRA tools by stimulating the exchange of tools, knowledge and good practices, promoting collaborative work, reinforcing existing relationships within the community and creating new ones.
Sectoral partners (employers' and employees' organisations) at EU and national levels and EU and national authorities (ministries, labour inspectorates, OSH institutes, etc.) can become an OiRA partner and member of the OiRA community.
---
How are Chris Mee Group involved?
Chris Mee Group were awarded the role of 'Independent Occupational Health and Safety Expert in film and TV production' for the joint project to develop an online interactive risk assessment tool OiRA for audiovisual production together with UNI Europa – media, entertainment & arts, the International Federation of Actors (FIA), the International Federation of Film Producers Associations (FIAPF), the International Federation of Musicians (FIM), and the collaboration and support of the European Agency for Health and Safety at Work (EU-OSHA).
---
Similar Topics:
Recruitment Services : CMSE Recruitment specialises in the recruitment of EHS, Fire and Safety people; Construction Safety Officers, Safety people, Process Engineers and more. Click Here to Submit your CV for roles in this industry.
Behavioural Based Safety Services. BBS systems aim to reduce accidents and resulting costs. The costs can be human costs, in the form of death or injury. As well as, financial costs in the form of damage to equipment, raw material, product, etc.. Read More
Working At Height Training. Designed to prevent falls in the workplace. In addition, ensuring the safety of individuals working in areas such as roof works, scaffolding, ladders and more. Read More