December 11, 2018 By Valerie Foster Comments are Off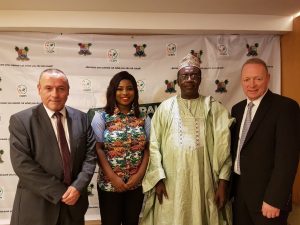 Carbon Action, part of the Chris Mee Group made a presentation this week to the Lagos Greenhouse Gas Inventory (L-GHGI) Project stakeholder group in Lagos, Nigeria. The stakeholder group was comprised of government departments, NGO's and major industrial companies operating in Nigeria. The meeting was hosted by the Climate Change and Ecological Protection Initiative, CCEPI. The stakeholders came together to discuss the urgent need to implement a carbon mitigation plan in Nigeria, which is a signatory to the 2015 Paris Accord. The meeting achieved a strong consensus on the need to act. The first project will be to conduct a carbon footprint for the whole economy – a 12 month project. Carbon Action's role is to provide the expert knowledge in quantifying emissions, in line with ISO 14064 guidelines.
Pictured are from L-R: Fergal Mee, Carbon Action, Esther Body-Lawson, CCEPI, Yahaya Ahmed, CEO Development Association of Renewable Energies (DARE) and Brian Murnane, Carbon Action.